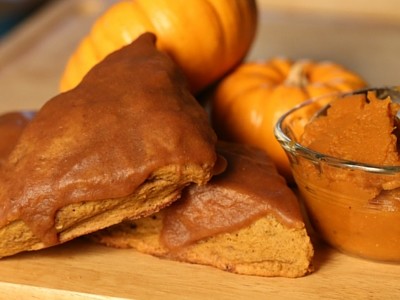 Ingredients
½ Cup Butter
½ Cup Brown sugar
3 tbsp Milk
½ Cup Pumpkin puree
1 tbsp Molasses
2 tsp Vanilla
1 Egg (beaten)
2 Cup All purpose flour
2 tbsp Buttermilk powder
1 tsp Baking powder
½ tsp Baking Soda
½ tsp Salt
1 tsp cinnamon
¾ tsp ginger
¼ tsp cloves
½ tsp nutmeg
Glaze
1½ Cup Sugar
3 tbsp Pumpkin Puree
¼ tsp Cinnamon sugar
¼ tsp Ginger
¼ tsp nutmeg
Method
Preheat the oven to 400oF. Line your baking sheet with a silicon pad.
Cream the butter and brown sugar with a paddle in the mixer till light and fluffy.
Add in the vanilla, pumpkin puree, milk and molasses gradually.
Then gradually add in the beaten egg.
In a mixing bowl, place the flour, buttermilk, baking powder, salt, spices and blend well.
Add this to the rest of the ingredients and beat until the batter is lump free.
Place the dough onto a sheet of wax paper and chill it in the fridge for an hour.
Remove the dough from the fridge and roll it out.
Cut it into triangular pieces.
Place it on the baking sheet.
Bake in the oven for 20-25 minutes or until inserted toothpick comes out clean.
Cool In a bowl, mix the sugar, pumpkin puree, and spices.
Spread this over the cooled scones.
Leave to set for about an hour.
Serve when the glaze hardens over.