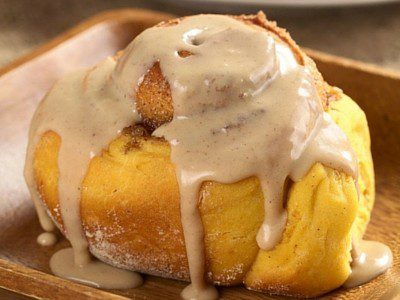 Pumpkin Cinnamon Rolls
---
Ingredients
1 package dry yeast
¼ C Warm water
2¾ cups All purpose flour
½ C Pumpkin puree
½ C Low fat milk
1 C Butter (melted)
¼ tsp ground nutmeg
Filling
3 tbsp Sugar
3 tbsp Brown sugar
2 tbsp All purpose flour
1½ tsp Ground Cinnamon
2 tbsp Butter (chilled and cut into small pieces)
Glaze
¾ C Powdered sugar
1 tbsp Hot water
¼ tsp Vanilla extract
Method
Dissolve the yeast in the warm water and a teaspoon sugar.
In a separate bowl, weigh out the flour, pumpkin puree, milk, butter and nutmeg. Pour in the yeast mixture and mix for 10 minutes in the mixer on medium speed.
Turn out the dough, onto a flour board.
Fold it in half, then half again.
Place it into a large bowl and cover.
Turn the dough out again and fold every 20 minutes.
Repeat it two more times.
After an hour, leave the dough to double.
Mix the brown sugar with the ground cinnamon and butter until it looks crumbly.
When the dough doubles, punch it down and roll it out with a rolling pin.
On a floured surface, roll the dough into a 12 x 10" rectangle.
Sprinkle the dough with the brown sugar and cover it entirely.
Starting with the long edge, roll up the rectangle tightly.
Pinch the ends to seal.
Cut it into 12 even slices and place it in a greased 9" square baking pan.
Cover with a damp cloth till the rolls double in size (about 30 minutes).
Preheat the oven to 375 oF.
When the rolls have doubled, place it in the oven and bake for 20 minutes or until golden brown.
Remove the rolls and cool about 15 minutes in the pan on a wire rack.
Combine the powdered sugar, water and vanilla in a small bowl with a wooden spoon until smooth.
Drizzle it over the cooled buns.
Serve warm.