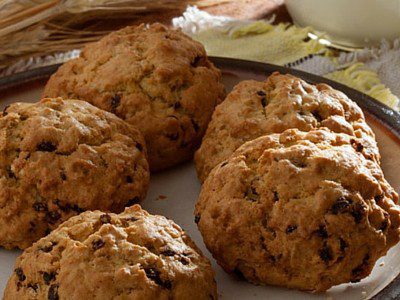 Ingredients
½ C Butter
½ C Brown sugar
½ C Granulated sugar
2 Eggs
2 tsp Vanilla extract
1¼ C Old fashioned oats
1¼ C All purpose flour
1½ tsp Baking powder
1½ C Raisins
¼ tsp Salt
½ tsp Cinnamon
Method
Preheat the oven to 350oF. Line two baking sheets with parchment paper.
In a mixing bowl, cream the butter and sugar until fluffy.
Low speed for one minute, high speed for one minute.
Reduce the speed to low and gradually add in the eggs and vanilla extract.
When well mixed, add in the oats, flour, raisins, baking powder, salt and cinnamon.
Continue to mix on medium speed for about 30 sec until the dough is completely mixed.
Use an ice cream scoop to place the cookies approximately 2 inches apart on a baking sheet. Bake for 12-15 minutes.
Remove the cookies from the oven and allow to cool on the baking rack for about 10 minutes before consuming.