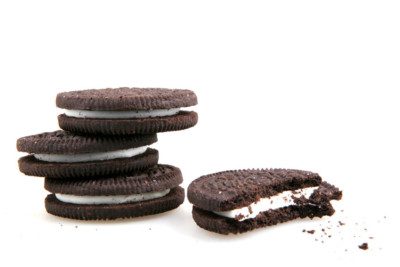 Edibles Mint Sandwich Cookies
---
Ingredients
Shortening – 220 g
Sugar – 220 g
Salt – 15 g
Eggs – 110 g
AP flour – 300 g
Alkalized cocoa powder – 93.75 g
Baking soda – 3 g
SOR-Mate by J&K Ingredients – 0.75 g
Filling
Shortening – 56.5 g
Powdered sugar – 131 g
Peppermint – 2.5 g
Sunflower Lecithin – 1.25 g
Green coloring
SOR-Mate – 0.5 g
THC oil, Indica 9.5 mg/mL – 6.38 mL
Method
Preheat oven to 325 °

F.

In a large bowl, cream together shortening, sugar and salt, until light and fluffy.

Beat in eggs until fully incorporated.

Mix together the flour, cocoa powder, baking soda and SOR-Mate into the mix. Blend well.

Add the dry ingredients to the wet ingredients, and mix together until combined.

Turn the dough out onto your surface and roll it out.

To roll out the dough  to ¼-inch (½ cm) thickness.

Using a small round cookie cutter, cut the dough into individual rounds and place on a large parchment-lined baking sheet, leaving at least ½-inch (1¼ cm) between each cookie. Pack together and re-roll out any scraps to cut additional cookies. Repeat with this process with each remaining ¼ of the dough. Make sure there are 48 discs.

Bake for 15 minutes. Remove and transfer cookies to a cooling rack to cool completely.
Filling
Combine all the ingredients in a medium mixing bowl. Beat together until light and fluffy.

Pipe 8 g onto a cookie disc and press the other disc on top to make a sandwich cookie.
Yields 2 doz sandwich cookies with 1.25 mg per cookie. Shelf stable for 30 days