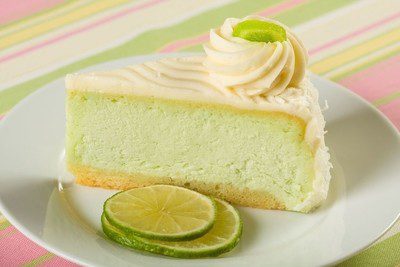 Ingredients
Crust
1½ C Graham cracker crumbs
6 tbsp Butter (melted)
Filling
24 oz Cream cheese
¼ C Cream
1 C Sugar
1 tbsp Corn starch
1 tbsp grated zest
4 Eggs
⅔ C Key lime juice
Method
Preheat oven to 300oC. Grease a pie dish.
Mix the graham cracker crumbs with the melted butter and pat it down tightly into the pie dish.
Have some of these crumbs go up the sidewalls.
Freeze this for 30 minutes.
Mix the cream cheese, cream, sugar, cornstarch and zest together.
Slowly add in the eggs.
Lastly, pour in the key lime juice.
Mix well and pour it into the pie dish.
Bake in the oven for 90 minutes.
The cheese cake is done when an inserted toothpick comes out clean.
Cool on a wire cooling rack for 1 hour before storing it in the refrigerator.