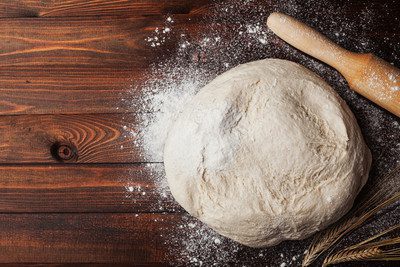 Keto Friendly Cauliflower Fermaid® Pizza Dough
---
Ingredients
In Baker's Percent: (%)
Tapioca Resistant Starch ( RS4) – 70%
Pea Fiber – 15%x
Cauliflower Flour – 15%
Salt – 2%
Baking Powder – 4%
Fermaid Relax – 2.5%
Psyllium Powder – 2.5%
Thixogum S – 18%
Pea Protein – 8%
Cycodextrin – 2.5%
Clear Taste 360 – 0.5%
Water – 105%
Palm Oil Shortening – 10%
Method
Pre-blend the drys using the paddle attachment.
Add the water and shortening to the dry blend and being mixing on low speed.
Once the dough has come together, increase the mixer speed and mix until smooth. This will take approximately four minutes. The dough will be smooth and elastic. If it still looks shaggy, continue to mix until a smooth texture is achieved.
If the mixer struggles with the paddle, with over to the dough hook.