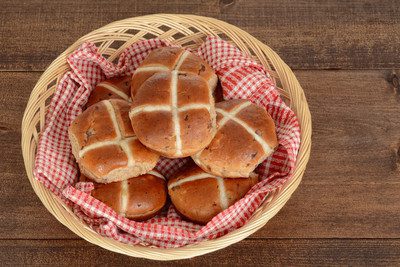 Honey Oat Buns
---
Ingredients
2 tsp Yeast
1¼ C Milk
3 C Bread flour
¾ C Oats
1½ tsp Salt
2 tbsp Olive oil
¼ C Honey
Method
Place all seven ingredients into the mixing bowl and mix for 12 minutes using a dough hook.
Place dough in a covered bowl and let rest until the dough has doubled in size (about 90 minutes).
Preheat oven to 375 F. Grease muffin tin.
Scale dough into 20 g dough balls.
Round dough balls by holding portioned dough ball in hand and rolling on smooth surface.
Arrange 4 dough balls into one muffin cavity – into the shape of a flower!
Let the dough flowers proof (covered with a damp cloth or plastic sheet) until the top of each flower rises.
Place in the oven for 35-40 minutes, or until golden brown.
Brush with additional honey immediately when the buns exit the oven.
Cool on a wire rack.