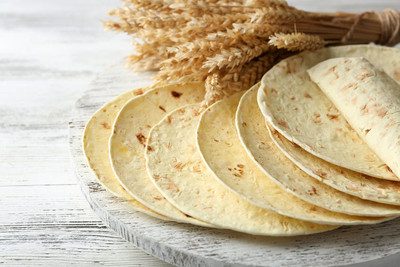 Flour Tortillas
---
Ingredients
In Baker's Percent: (%)
HRW SG Flour – 100%
Water – 55%
Salt – 1.5%
Sugar – 0.5%
Shortening – 7%
Sodium bicarbonate – 1%
Levona Brio – 1.8%
SSL – 0.5%
Method
Add all ingredients to spiral mixer, and mix for 2 min at 1st speed and 5.5-8 min at the 2nd speed. Desired dough temperature 85-860F.
Weigh 1,400 g of dough and place in a slightly greased bowl and rest for 5 min at room temp.
Flatten the 1,400 g dough on the Duchess Divider/Rounder tray and make it of uniform thickness. Cover it and allow to rest for 5 min.
Divide and round 38 pieces of dough balls (37 g each).
Put the dough balls in a covered box and proof for 20 min.
Set the top platen and bottom platen (DoughPro DP 2000) temperatures to 1850C (3650F) and 1770C (3500F), respectively.
Place a dough ball on the center of bottom hot plate and quickly press for 1 sec. and take away the tortilla sheet.
Immediately after pressing, tortillas are baked on a griddle (DoughPro, model TW2025) for 30 sec each side and then 10 sec each side on high heat.
Tortillas are allowed to cool on a metal rack for 5 min, packed into ziplock bags and stored at room temperature.