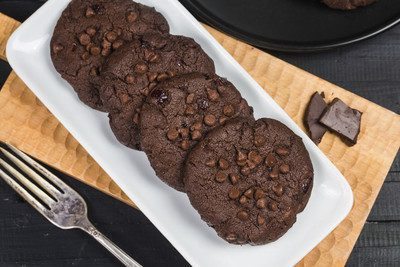 Double Chocolate Chip Cookies
---
Ingredients
1 C Butter
1 C brown Sugar
¾ C Sugar
2 Eggs
2 C All purpose flour
½ C Cocoa powder
1 tsp Baking powder
1 tsp Salt
1 tsp Vanilla
½ C Milk
2 tbsp Flax
1 C White chocolate chip
Method
Preheat oven to 350°F and grease a cookie sheet.
Blend together dry ingredients.
Cream the butter with the sugar until fluffy.
Add in the eggs, milk, and vanilla gradually until well-blended.
Add in the flour gradually via separating into three portions.
As ingredients reach an adequate blend, slowly add in chocolate chips.
Using an ice cream scoop, dispense dough portions onto the prepared cookie sheet.
Press the dough down flat (Helpful hint: wetting fingers slightly will prevent dough from sticking). Due to minimal spread during baking characteristic to this type of cookie, flattening the portioned cookie dough is helpful.
Bake for 20 minutes.
Cook on a wire rack for 30 minutes before packaging.