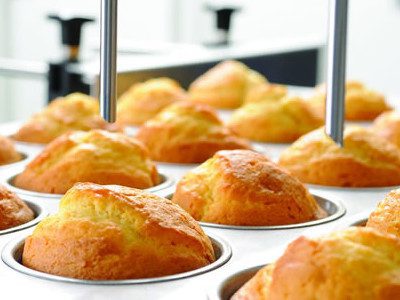 Ingredients
½ C All purpose flour
¾ C Yellow cornmeal
1½ tsp Baking powder
¼ tsp Salt
½ tsp Ground cayenne pepper
½ tsp Ground ginger
1 tsp Ground cinnamon
4 tbsp Butter
½ C Buttermilk
½ C Honey
1 Egg
For Spicy Honey Butter:
2 tbsp Butter, warmed slightly
1 tbsp Honey
1 tsp Cinnamon
½ tsp Cayenne Pepper
Method
Simply stir ingredients together rapidly.
Preheat the oven to 350 F. Prepare a 12 muffin pan with cupcake liners, then set aside.
Sift the flour, cornmeal, baking powder, salt, ginger, cinnamon and
cayenne pepper into a bowl. Set aside.
Melt the butter and set aside to cool slightly.
Combine buttermilk, honey and egg. Add melted butter and whisk thoroughly.
Pour into the flour mixture and use a rubber spatula to fold the ingredients
together.
Scoop the batter evenly into liners, using an ice cream scoop helps.
Bake for 12-15 minutes. Enjoy!