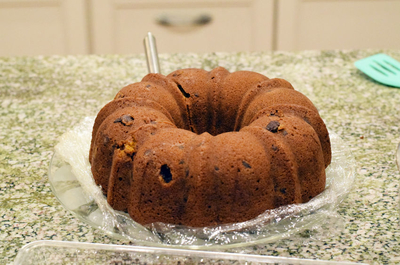 Chocolate Pumpkin Bundt Cake
---
Ingredients
1 C All-purpose flour
¾ Whole wheat pastry flour
1 C Sugar
¾C Unsweetened cocoa powder
1½ tsp Baking powder
1½ Baking soda
1 tsp Pumpkin pie spice
¼ tsp Salt
1 C Semi sweet chocolate chips
1 C Lowfat buttermilk
1 Can Pumpkin puree (15oz)
¾ C Dark brown sugar
1 Egg
1 Egg white
¼ C Canola oil
¼ C Agave syrup
1 tsp Vanilla extract
½ C Powdered sugar
Method
Preheat oven to 350 oF. Grease a 12 cup Bundt pan.
Whisk All-purpose flour, whole wheat flour, sugar, cocoa, baking powder, baking soda, pumpkin pie spice, salt and chocolate chips in a bowl.
Blend 1 C buttermilk, pumpkin puree and brown sugar in another bowl.
Beat in whole egg, and egg white.
Add in the oil, syrup and vanilla.
Fold in the dry ingredients, and stirring until just combined.
Pour the batter into the Bundt pan and place it in the oven.
Bake for 1 hr and 15 minutes.
Test by inserting a metal skewer in the middle of a side to make sure it comes out clean (no batter).
Remove from the oven and place on the cooling rack for 15 minutes. Loosen the edges gently with a knife and invert the cake pan.
The cake will loosen eventually and come off the pan. Let it cool for at least 2 hours.
To glaze the cake, combine the powdered sugar, 1 tbsp buttermilk in a small bowl and stir until smooth.
Place the cake on a serving plate and drizzle the glaze over the top.
Refrigerate until ready to serve.