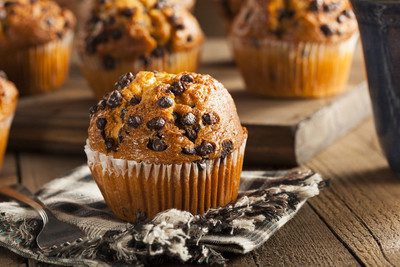 Ingredients
½ C Sugar
4 oz Cream cheese
⅓ C Vegetable oil
1 egg
1 tsp Vanilla
1 C Milk
2 C All purpose flour
¼ tsp Salt
3 tsp Baking powder
1 C Semi sweet chocolate chip
Method
Preheat the oven to 400oF. Line a 12 muffin cup pan with muffin cups.
In the mixing bowl, place the flour, sugar, baking powder and cream cheese and mix well.
In a small bowl, combine the milk, oil and egg to blend well.
Add this to the dry ingredients and beat until the batter is lump free.
Fill the muffin cups ⅔ full using an ice cream scoop.
Bake in the oven for 20-25 minutes or until inserted toothpick comes out clean.
Cool 1 minutes before removing from the pan.