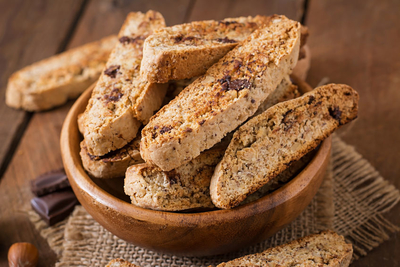 Edibles Cran Orange White Chocolate Biscotti
---
Ingredients
All-purpose white flour – 350 g
Sugar – 168 g
Shortening – 214 g
White chocolate chips – 90 g
Baking Powder – 14.4 g
Vanilla – 4.5 g
Salt – 4 g
Eggs – 100 g
Tender Jel – 18 g
Sunflower Lecithin  – 7 g
Water – 25 g
Orange zest- 48 g
Cranberry – 80 g
THC, Sativa, 11.1 mg/ml – 2.7 mL
Method
Preheat an oven to 340 °

F.

Mix the salt, baking powder, Tender Jel  and orange zest into the flour.

Cream the sugar and shortening till it is fluffy.

Add in the eggs gradually while beating the mixture.

Scrape the sides down. Add in the Vanilla, water, lecithin, THC oil and beat for a minute.

Pour the flour mixture gradually into the mixture and scrape down the edges of the bowl.

Take the dough out of the bowl and place it to rest on a clean flat surface.

Cut the dough into two separate and equal sized portions.

Shape each piece into a log shape. The goal should be to have each one higher than it is wide so that it rises nicely while baking in the oven.

Place the dough logs onto a parchment paper lined cookie sheet and bake it for 30 minutes.

Once the logs have finished cooking, set them aside long enough to cool down to a safe handling temperature.

Slice the baked logs into 12 slices each. Then place them back into the oven for another 20 minutes.

Once they have finished cooking, remove the biscotti from the sheet, and allow them time to cool. The pieces must be cool to the touch before packaging.
Yields 24 servings at 1.25mg THC per biscotti.