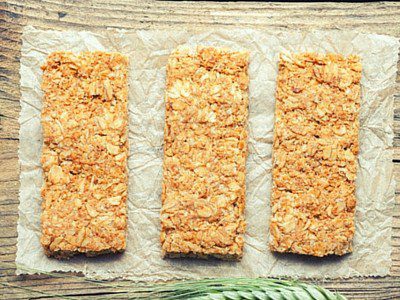 Ingredients
1 Apple (or ¾ C Applesauce)
2 Eggs
¼ C Honey
2 oz Butter (1/2 stick)
¼ C Brown sugar
½ tsp Salt
1 tsp Vanilla
1 tsp Baking soda
⅓ C Brown Rice Flour
⅓ C Quinoa flour
1½ C Oats
1 C Raisins
¼ C Flax
½ C Pumpkin seeds
½ C Almonds
Method
Preheat the oven to 350oF.
Place the apple and egg in a blender to puree it.
Add in the honey, butter, brown sugar, salt, vanilla and baking soda to blend well.
In a separate bowl, measure out the other dry ingredients.
Add the liquid mixture to this bowl. Use a wooden spoon to mix well.
Roll it out onto a greased cookie sheet.
Use a pizza cutter to cut the bars into 20 pieces.
Bake in the oven for 30 mins.