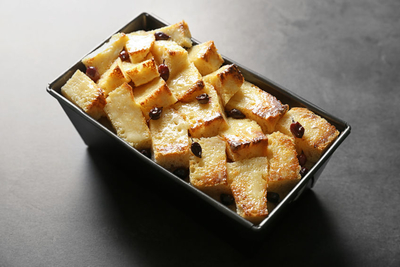 Bread Pudding
---
Ingredients
4 Honey Oat buns (or 6 slices of day old bread)
2 tbsp Butter
½ C Raisin
4 Eggs
2 C Milk
¾ C Sugar
1 tsp Vanilla
Sauce:
½ C Sugar
2 tbsp Corn syrup
2 tbsp Butter
2 tbsp Bourbon
Method
Preheat the oven to 350oF. Grease a 7 x 11″ (approx.) baking dish.
Tear the bread apart into small pieces and place in dish.
Pour melted butter over bread, and sprinkle on the raisins.
Beat eggs and vanilla in a bowl.
Pour the sugar into the milk and heat it in the microwave oven for 1 minute (luke warm).
Mix with eggs and vanilla.
Pour the mixture evenly over the bread. Let sit for 10 minutes to allow the bread to absorb the egg mixture.
Bake in the oven for 45 minutes or until golden brown.
Mix the sauce ingredients in a sauce pan 5 minutes before the pudding comes out.
Heat over medium until boiling.
Simmer until the bread pudding finishes bake.
Pour glaze over the top immediately.
Serve warm.
Can be substituted with 6 slices of day-old bread.