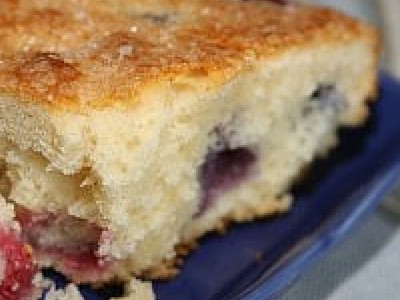 Ingredients
¾ C Sugar
½ C Butter
1 Egg
1 tsp Raspberry flavor
½ C Water
2 C Whole wheat flour
2 tsp Baking powder
1 tsp Salt
3 tbsp Buttermilk powder
1 C Raspberries
1 C Blueberries
1 tbsp Dusting sugar
Method
Preheat the oven to 350oF. Grease a 7 x 11″ (approx.) baking dish.
Using the paddle attachment, cream sugar and butter until fluffy.
Gradually add in the egg, water, and raspberry flavoring.
Add in the rest of the dry ingredients in 3 steps.
Beat the batter for one minute on high.
Scoop the batter into the baking dish, and evenly distribute it into the corners.
Sprinkle the dusting sugar on the top.
Bake in the oven for 40 minutes or until golden brown.