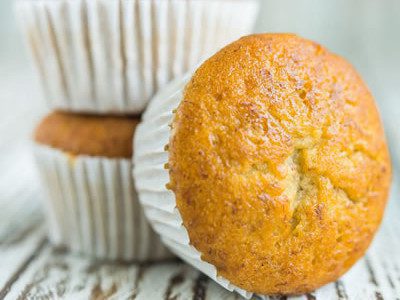 Banana Nut Muffins
---
Ingredients
¼ stick Butter
¾ C sugar
2 Eggs
4 Bananas
¾ C Greek yogurt
1½ C Whole wheat flour
1 tsp Baking soda
1 tsp Vanilla
¼ tsp Salt
1 tbsp Ground flax seed
1 C Walnuts
Method
Preheat the oven to 350oF and place muffin cups into muffin tin.
Blend all the dry ingredients together. Use only half of the walnuts. Set aside remaining half.
Cream the butter and sugar together until fluffy, add in bananas, eggs, and vanilla gradually.
Mix until smooth.
Add in dry ingredients and mix.
Fill the cups ¾ full.
Top with remaining half of the walnuts.
Bake in the oven for 30 minutes or until golden brown.
Remove the muffins and let cool on wire rack.