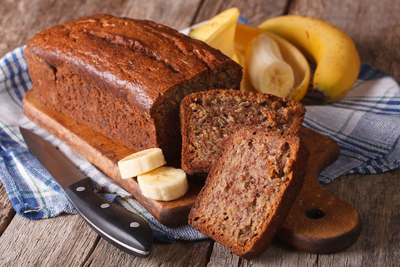 Banana Bread
---
Ingredients
1½ C Sugar
½ C Butter
3 Bananas (over ripe)
3 Eggs
2 C All purpose flour
1 tsp Baking soda
½ tsp Salt
Method
Preheat oven to 375oF.
Grease a 9" loaf pan.
Mash the banana in a bowl with a potato masher.
Mix the flour, baking soda and salt in a bowl.
Cream the butter and sugar in another bowl.
Add in the bananas and mix well.
Gradually add in the eggs till it is well blended.
Fold in the flour mixture.
Pour into the loaf pan and bake for 45 mins, or until an inserted toothpick comes out clean.
Cool on a wire cooling rack.