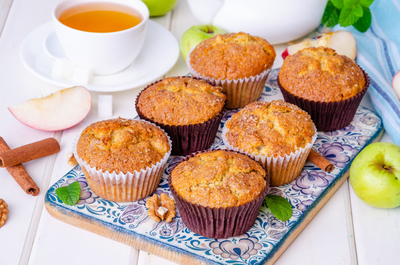 Apple Cinnamon Muffin
---
Ingredients
2 Cup Apples (Chopped)
1/2 Cup Butter
3/4 Cup Brown sugar
3/4 Cup Sugar
1 tsp Vanilla
2 Eggs (Large, Beaten)
2 tsp Cinnamon
3 1/2 Cup Cake flour
3 tsp Baking powder
Pinch of salt (or 1/8 tsp salt)
Streusel
2 tbsp butter
1/4 Cup Cake flour
1/4 Cup Sugar
Method
Preheat the oven to 400°F. Line a 12 muffin cup pan with muffin cups.
Prepare the apples.
Cream the butter, brown sugar and sugar with a paddle in the mixer till light and fluffy.
Add in the vanilla. Then gradually add in the beaten eggs.
In a mixing bowl, place the flour, baking powder, salt, cinnamon and blend well.
Add this to the rest of the ingredients and beat until the batter is lump free.
In a separate bowl, rub the butter into the flour and sugar till you get a lumpy consistency.
Fill the muffin cups 2/3 full using an ice cream scoop.
Sprinkle the streusel on top.
Bake in the oven for 20-25 minutes or until inserted toothpick comes out clean.
Cool 1 minutes before removing from the pan.