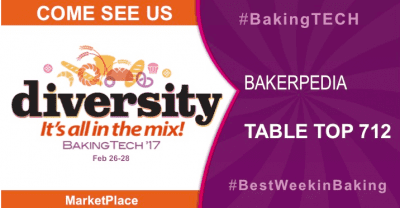 We hope you'll join BAKERpedia at BakingTECH this year! We can't wait to mingle with leaders of the industry and attend all the breakout sessions. Be sure to stop in for the industry panel discussion I'll be leading on 2/28 at 9:55 a.m. Come say hello to us at the BAKERpedia Table, #712!
BAKERpedia is proud to acknowledge this year's student finalists for the American Society of Baking's Product Development Contest:
"TriSprout Thins" by Ayna Arora, Morgan Whitecotton and Jessica Miao from The Ohio State University
"La Loafette" by Christina Chen, Alina Kim, Nicholas Malchione and Colleen Deyo from Cornell University
"Sproutastix" by Ying Fan, Brittany Hubbard, Ruiqi Lui and Chi Gao from University of Florida
"Bump'in" by Joshua Nazareth, Kangzi Ren and Monica Primacella from Iowa State University
Find out who the winner will be at BakingTECH!