Berry Breakfast Cake
Berry Breakfast Cake
Nutrition Info
Serving size:

80g

Calories:

200
Fat:

5g

Saturated fat:

5g

Carbs:

30g

Sugar:

15g

Sodium:

330mg

Fiber:

3g

Protein:

3g

Chol:

35mg
Prep time:
Cook time:
Total time: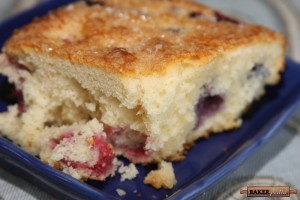 A high antioxidant and delicious breakfast treat that melts in your mouth! The buttermilk denotes a light, fluffy texture complete with a wonderful aroma. We used white whole wheat shown in the picture above, so little ones will not realize this delectable breakfast is actually good for them. After removing from the oven, be sure to allow Berry Breakfast Cake to cool at least 15 minutes, and see it vanish from your kitchen table. This is my promise!
Ingredients
¾ C Sugar
½ C Butter
1 Egg
1 tsp Raspberry flavor
½ C Water
2 C Whole wheat flour
2 tsp Baking powder
1 tsp Salt
3 tbsp Buttermilk powder
1 C Raspberries
1C Blueberries
1 tbsp Dusting sugar
Instructions
Preheat the oven to 350oF. Grease a 7 x 11" (approx.) baking dish.
Using the paddle attachment, cream sugar and butter until fluffy.
Gradually add in the egg, water, and raspberry flavoring.
Add in the rest of the dry ingredients in 3 steps.
Beat the batter for one minute on high.
Scoop the batter into the baking dish, and evenly distribute it into the corners.
Sprinkle the dusting sugar on the top.
Bake in the oven for 40 minutes or until golden brown.