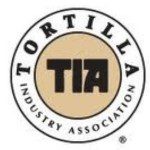 The Tortilla Industry Association (TIA) serves and represents the fastest growing segment of the baking industry. A non-profit consisting of tortilla manufacturers, industry suppliers and distributors around the world, they assist large and small companies with:
Accelerated and cost-effective access to the key players in the tortilla market
Staying informed and ahead of regulations
Quality control, formulation and distribution best practices
Educational support through technical seminars, conventions and market research
Tortillas
Sales of tortillas are exceeding all other ethnic and specialty bread sales, including bagels, croissants, muffins and pita bread. TIA promotes the consumption of this traditional Mexican bread, including alternative uses of tortillas, such wraps, gluten-free, kosher and other non-traditional formulations that have seen the greatest growth.
Find more resources for the tortilla industry.
Membership
As a member of the TIA, your organization will stay a head of the game.
Staying up-to-date on the latest industry information, market research, technical research and government regulations that affect your company
Establishing business connections that help you grow your company
Providing you with added promotional opportunities through greater exposure, visibility and the TIA online presence
TIA offers you the ability to expand your reach, your resources and your business success
Additional benefits include:
Advertising in TIA directory/buyers guide
Link and exposure from our website
Big discounts for exhibiting or attending the TIA Annual Convention
Reduced costs for attending or exhibiting at TIA Tech Conference
Reduced costs when attending AIB conferences and seminars
Research and marketing information
Events
TIA has an Annual convention, a Technical Conference and a European Conference – see  other events and seminars throughout the year.
Contact us
Jim Kabbani
CEO | Tortilla Industry Association
1400 North 14th Street Arlington VA 22209 USA
Phone: 1-800-944-6099 ext 1
Email: [email protected]