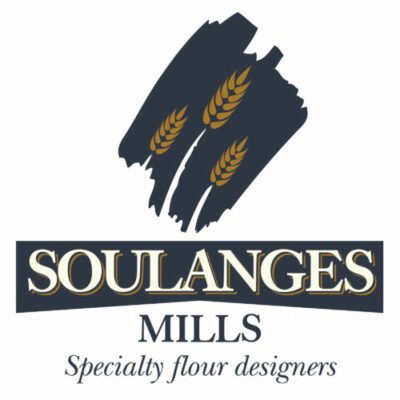 Proud Partner to Farmers, Millers, Bakers and Pastry Makers
The concept of Les Moulins de Soulanges (Soulanges Mills) sprouted out of a partnership between farmers, a miller, and bakers whose goal was to develop extremely high-quality products while respecting the environment. Therefore, we built and strengthened our mill in accordance with this value chain concept.
Our production plant, located in St-Polycarpe in the Montérégie region, milled its first quality Quebecker's grains in February 2007. Thanks to this partnership, we have been able to develop, produce and market specialty flours, without improvers, that meet the needs of industrial and artisanal bakers and consequently, consumers as well.
We are creators and producers of specialty flour. We offer innovative flour solutions for the bakery and food industries while helping the environment and promoting local, Agriculture Raisonnée™ – certified farming practices.
Agriculture RaisonnéeTM, because we care about the environment
Our flours are products of Agriculture Raisonnée™, made from wheats grown using a specific agricultural approach. The specifications that frame our wheat production aim to reduce the use of pesticides and are monitored by our agronomy team. This framework allows for the rigorous monitoring and complete traceability of our products. Growing this way respects the environment while also aiming for the highest quality.
More information on the Agriculture Raisonnée program.
Our Certifications
BRC – The prestigious British Retail Consortium (BRC) food safety certification was given to Les Moulins de Soulanges in March 2014. From the buying of raw materials to the delivery of our specialty flours to our customers, it is with pride that we apply a standard that is internationally recognized as a reference for quality and food safety.
Kosher – All of our products are compliant with the rules concerning kosher ingredients and food preparation processes. Les Moulins de Soulanges products are kosher certified.
Pure Canadian Wheats – At Les Moulins de Soulanges, we are proud to make specialty flours that are produced locally, with 100 % of Canadian Wheats since 2007.
We blend. You bake.
At Les Moulins de Soulanges, all of our flours are made from local wheats and harvested in accordance with Agriculture Raisonnée™. Each customer has a personalized recipe that is often adapted from our official flours. We therefore offer you a product that is ideal for your use and better for the environment!
Our specialty flours are made from an exceptional blend of wheats from various regions of Canada. These wheats are grown using Agriculture Raisonnée™, an approach that incorporates various innovative agricultural practices, the goal of which is to preserve the environment.
Click here to check our entire flours & brans collection!
Les Moulins de Soulanges can accompany you in all your projects. From research to specific baking needs, we helps you through all the steps of the process. Whether it is a personalized flour, specially blend to meet your needs or one from our collection, do not hesitate to contact us for any question you may have!
Contact
Les Moulins de Soulanges
485 Chemin Saint-Philippe
Saint Polycarpe, QC
J0P 1S0
Phone: (450) 265-3005
E-mail: [email protected]