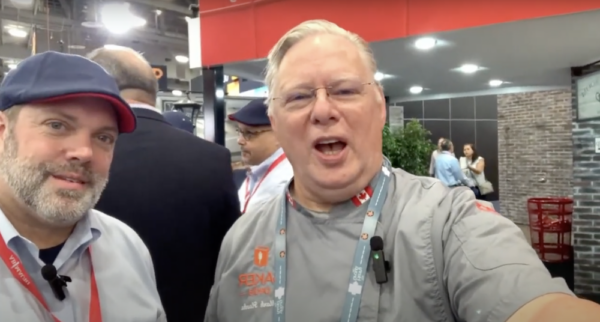 I know I'm not the first to say that baking is an art and that, alongside the creation of delicious baked goods, it can also ignite the imagination. At this year's Baking Expo, one of the booths where bakers really got carried away (in a good way) by their imagination was AB Mauri's London Calling. During the show, I stopped by the booth to speak to Rick Oleshak, Vice President of Marketing, about how they brought Baker Street life on the IBIE show floor.
Baking Inspiration with AB Mauri
If you didn't know, AB Mauri North America is a baking technology company passionately driven to help customers achieve superior quality. Designed to inspire and educate, their booth focused on a variety of non-traditional elements to appeal to both industrial and artisan bakers with a virtual trip to London! The AB Mauri North American team put the Ace of Cakes himself, Duff Goldman, up to the task of recreating the delectable details of Sherlock Holmes' abode on Baker Street with cakes in various forms ranging from books to a vase of flowers and much more.
Of course, the fun didn't stop there! The entire AB Mauri team dressed the part with matching British-inspired outfits, served delicious artisanal bread, and put up several red telephone booths for visiting bakers to get the perfect photo op. Also, they even put on a happy hour concert called The Rockin' Pint with Goldman's musical group, Foie Grock, in which the band played famous Brit Rock hits.
Catch the full interview