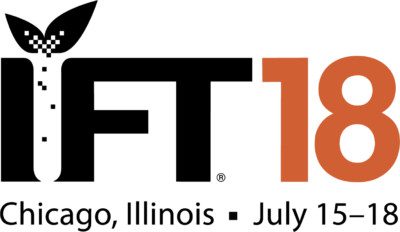 Visit the IFT18 Annual Event and Food Expo website
IFT:18: A Matter of Science + Food
The largest and most comprehensive science of food event and food expo of its kind.
Since 1939, the Institute of Food Technologists has been bringing the most creative minds in the science of food and technology together to collaborate, learn, and contribute, all with the goal of inspiring and transforming collective scientific knowledge into innovative solutions for the benefit of all people around the world. And this year's event is no exception.
Join us at IFT18 where top researchers and food science professionals converge to network, collaborate, and share the latest innovative discoveries in the science of food. IFT's annual event is the premier global event where food science professionals hone their expertise and expand their knowledge with the latest advances in the science of food. Connect with over 20,000 top food science and technology experts from more than 90 countries, representing the most prominent global food organizations, college and universities, and industries.
Stay Ahead of the Competition
Don't pass up the opportunity to network and learn at a global scale with access to the most innovative strategies, newest solutions, future trends and insights.
Top Reasons Attendees Return to IFT's Annual Event
Network! Network! Network!
Re-connect with old friends and colleagues and make new connections with over 20,000 food science professionals from over 90 countries all looking to share and learn with their professional peers.
New Products. New Technologies.
Over 1,000 ingredient, technology, and design companies concentrated in one place to bring you the newest products, most recent innovations and latest technology developments in the science of food.
Exceptional Scientific Programming
Fuel your passion for the science of food through our thought-provoking scientific and featured sessions, presentations, panel discussions, start-up alley, and innovation exhibitions.
Fold Your Time and Get Business Done.
IFT's Annual Event and Food Expo is the perfect setting to connect with professional peers and vendors to get business done face-to-face in the span of 4 intensive, action packed days.
About the Institute of Food Technologists
The Institute of Food Technologists (IFT) is a global organization of 17,000 individual members from more than 100 countries committed to advancing the science of food. Since 1939, IFT has brought together the brightest minds in food science, technology and related professions from academia, government, and industry to solve the world's greatest food challenges. Our organization works to ensure that our professional community has the resources they need to learn, grow, and advance the science of food as the population and the world evolve. We believe that science is essential to ensuring a global food supply that is sustainable, safe, nutritious, and accessible to all.
Learn more about IFT
For more information about IFT, please visit ift.org.