Pancakes are without a doubt one of the most popular meals for breakfast, not only in the United States, but all around the world. How can you make healthier pancakes that are still high-quality and delicious? Use fiber!
At InterFiber we have been researching using a sugar cane fiber, Unicell SCF, in pancakes and other baked goods. It may sound a bit exotic, but in fact it is derived from the dry cell wall or fibrous residue remaining after expression or extraction of sugar juice from sugar cane.
Unicell SCF may be used in multiple applications, even beyond bakery and baked goods. It comes in a white to light grey powder of loose consistency. It is odorless and tasteless, GMO-free, gluten-free, allergen-free, and has high water and oil holding capacity.
In order to measure the benefits Unicell SCF brings to this application we ran multiple tests and tried lots of different recipes and ratios. You can study them in the table below: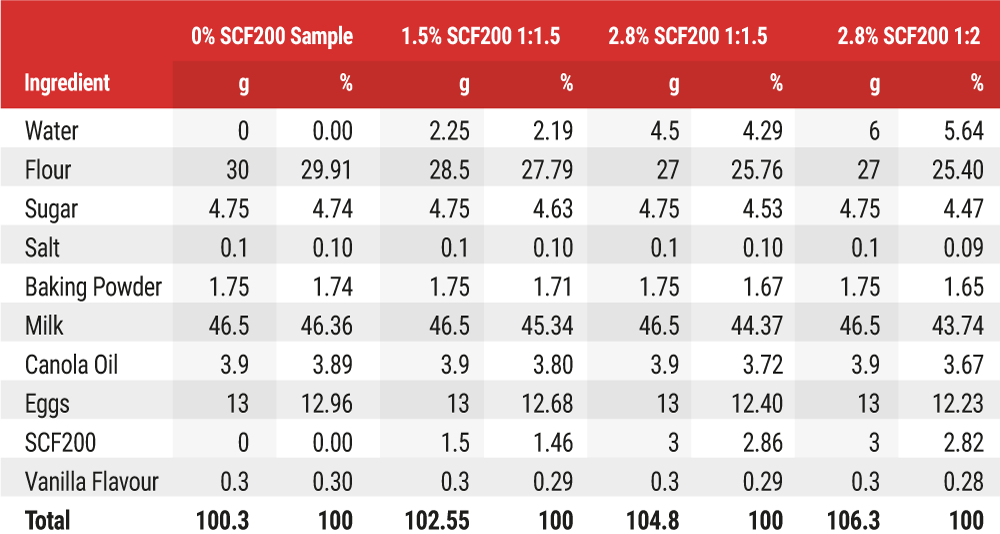 Our research showed Unicell SCF addition causes mass increase of the final product.
The more Sugar Cane Fiber applied in the study, the higher increase is observed. Product gain is related to bigger water addition in the recipe which is necessary to maintain the consistency typical of pancakes without fiber addition. You can see the numbers in the table below:

The effect of adding Unicell SCF is not only in the numbers above.
It is also visually evident. To convince you once and for all, we would like to show it to you:

Now the fun part
To complete our research we also ran a series of blind taste, in which we couldn't resist not to take part in. Imagine having a Pancake Day for more than two weeks in a row! Our R&D Department was the busiest part of our office.
In our analysis we took into account different parameters. You can see the results on the charts below: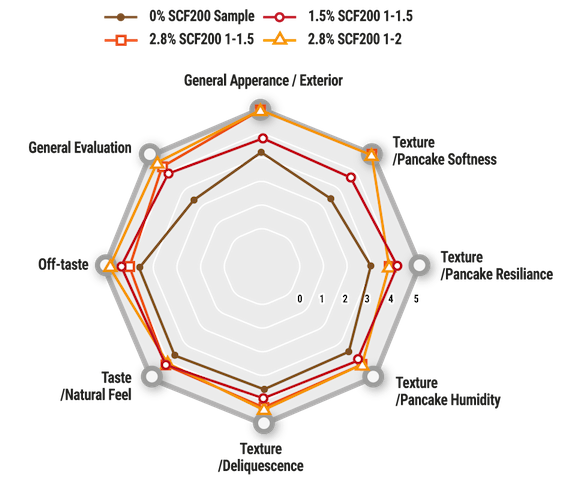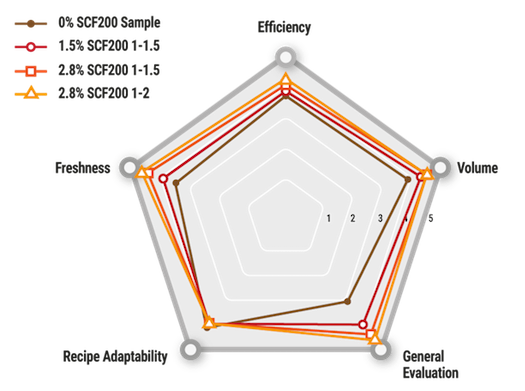 Unicell SCF addition to pancakes significantly influences all the parameters analyzed. The more Sugar Cane Fiber is added, the better the assessment is; this fact is mostly visible in pancakes' softness and general appearance. Unicell SCF addition also influences freshness of the final product and its volume.
To summarize our findings, Unicell SCF:
Increases efficiency of the final product
Extends freshness when applied to pancakes
Provides smaller product losses in pancakes
Increases volume of the final product
Does not introduce any off-taste but provides natural feel to pancakes
Pancakes with Unicell SCF applied are assessed as better in terms of general evaluation
Have you found the benefits of Unicell SCF interesting? Contact us for more details!