Have you been in a situation where a new food product at one plant is vastly different from the original product produced at another plant? You've made sure that all the ingredients you use are the same from the other plant. Even the process is almost the same. But the product comes out vastly different. Could it be the water? YES. Since water is at least 30% of most baked products, water quality has the second largest impact on your product, after flour quality.
So how can I make my water consistent?
That's just what the New York WaterMaker (NYWM) does. This patent pending water source replication system was first developed to mimic New York water attributes for food plants around the country. Yet this technology has a whole slew of uses, as a highly effective water filtration, disinfection, softener, and descaling system.
For food production plants, bakeries, pizzerias or restaurants that have sites in different geographical locations or water sources, it would mean consistent products.  It is perfect for franchises, or expanding businesses.
How exactly does this help my food product?
The filtration system produces 8-10 gallons per minute of usable water. The NYWM water source replication system can adjust the pH value for low alkalinity water. It can also increase or decrease chlorine content, which makes a difference with how yeast will react. Low levels of Total Dissolved Solids (TDS) are maintained, so low levels of minerals such as calcium and magnesium are also maintained.
The whole unit is 35 x 24 x 17 inches, fitting under a counter or on a wall.
The system has a bypass function for normal water flow and all parts are covered under warranty and shipped overnight.  Parts are easily replaced and maintained without any level of difficulty. Phone/ video support is also offered to walk through any problems that escalate beyond basic troubleshooting.  The maintenance schedule keeps ahead of all standard replacement parts (filters, tanks, etc.).
It also uses 100% of the water, unlike RO and other water filtration systems, which waste and dump up to 90% of the filtered water down the drain.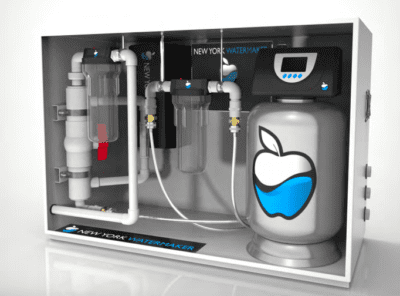 What all can a water source replication system do?
Replicates any water source for product consistency, and keeps water in its natural state
Effective water filtration, disinfection, and softening ensures the removal/reduction of unwanted minerals while eliminating bacteria and other neurotoxins – without using chemicals.  No more mold or algae in ice machines.
Controls pH and alkalinity within targeted ranges
Removes chlorine and chloramine
Reduces Total Dissolved Solids ("TDS")
Softens and conditions water to desired levels
Improves water oxidation through ozonation
Produces low-alkaline water
Restructures water molecules through Electronic Frequency Resonation
De-scales water and extends equipment life
With this technology, your customers will get an identical product, no matter which plant they buy it from. Plus, you can fine tune your water attributes to increase product quality. The days of having difficulty with water source may be over!
Want to learn more? Download the brochure: