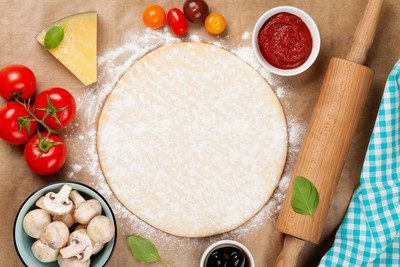 Vegan White Fermaid® Pizza Dough
---
Ingredients
In Baker's Percent: (%)
Cassava Flour – 24%
Wet Milled Ha Rice Flour – 17%
20% Protein Chickpea Flour – 7%
Penbind 196 (Modified Potato Starch) – 25%
Malted Brown Rice Flour – 2%
Pre-Gel Rice Flour – 5%
Rheoflex Modified – 20%
Salt – 2%
Granulated Sugar – 2%
Baking Powder – 4%
Fermaid Relax – 3%
Thixogum S – 2%
Solanic 300 Potato Protein – 17%
K4m (HPMC) – 2%
Cyclodextrin – 3%
Clear Taste m360 – 0.4%
Water – 90%
Medium Invert Cane Syrup – 4%
Palm Shortening – 7%
Method
Pre-blend the drys using the paddle attachment.
Add the water and shortening the the dry blend and begin mixing on low speed.
Once the dough has come together, increase the mixer speed and mix until smooth. This will take approximately four minutes. The dough will be smooth and elastic. If it still looks shaggy, continue to mix until the smooth texture is achieved.
If the mixer struggle with the paddle, switch over to the dough hook.
Take the dough to the table and divide into appropriately sized dough balls.
Once the dough pieces are rolled out, brush a layer of melted fat onto the top surface to create a moisture barrier bake at a minimum of 450F for 15-20 minutes, depending on the thickness of toppings and dough. Higher bake temperatures are better. Keep in mind that GF fruits must bake longer than conventional wheat products.