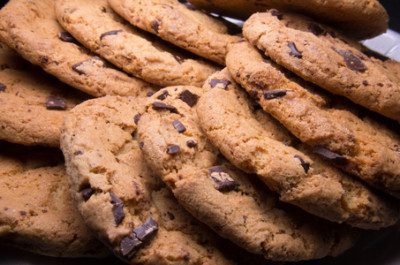 Keto Peanut Butter Chocolate Chip DOLCIA PRIMA® Cookies
---
Ingredients
In Baker's Percent: (%)
Dolcia Prima DS – 10.40%
Tasteva M Stevia – 0.09%
Salt – 0.52%
Baking Soda – 0.09%
Natural Peanut Butter – 21.67%
Palm Shortening RS82 – 8.67%
Promitor 85L SCF – 24.08%
Water – 5.20%
Vanillin Flavor – 0.69%
Barpro 291 WPI – 5.20%
Provon 190 MPI – 5.20%
Supro 430 SPI – 2.60%
Chopped Peanuts
Golden Flaxmeal – 1.73%
100% DPA Chocolate – 13.87%
Topping
Cookie Dough Base – 97.21%
Chopped Peanuts – 2.79%
Chocolate Chunks
Method
Add dries to mixing bowl, dry blend at 30s low.
Add shortening and peanut butter at 1 min low, then scrape.
Add promitor syrup, water, flavor, mix 30s low, then scrape.
Add protein blend, mix 30s low.
Add chocolate, mix 10s low.
Set temperature to 325°F.
Deposit Time: at 35g do 9.5 minutes, at 50g 11 minutes.
Bake with continuous reel, direct fired radiant heat oven 275°F convection, fan low from frozen: 15 mins.