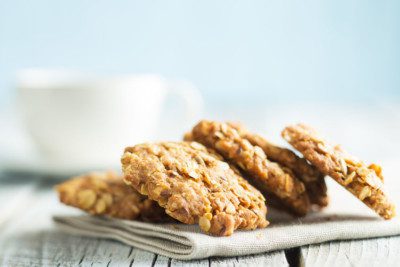 Edibles Doyon Gluten-Free Garbage Cookies
---
Ingredients
Butter – 230 g
Salt – 3 g
Brown sugar – 201 g
Sugar – 140 g
Vanilla – 5 g
Nutrilac by Arla Foods Ingredients – 5 g
AP gluten-free flour by King Arthur Flour – 350 g
Eggs – 100 g
Baking powder – 12 g
Milk chocolate chip – 100 g
Semi-sweet chocolate chips – 100 g
White chocolate chips – 100 g
Rainbow sprinkles – 50 g
Potato chips – 50 g
Toasted oats – 50 g
Toasted sweetened coconuts – 50 g
Key lime inclusions by Balchem – 25 g
Tender Jel by Tate & Lyle- 25 g
SOR-Mate by J&K Ingredients – 35 g
THC oil, Indica 9.4 mg/mL – 6.38 mL
Method
With the paddle attachment for your Doyon Mixer, cream the butter, brown sugar and sugar on speed 5 for 3 mins. Scrape down bowl.

With the mixer on speed 5, add eggs, one at a time, allowing each yolk to incorporate fully before adding the next egg. Add vanilla. Scrape down bowl.

Add toasted non-fat milk solids (Nutrilac), flour, salt and baking powder, all in one batch. Mix on speed 4 for 30 s.

Add semi-sweet, milk and white chocolate, sprinkles, coconut and oats. Mix on speed 2 for 30 sec. Add in potato chips and mix for 30 sec.

Scoop with # 40 scoop (1.5 tbsp) onto parchment lined sheet pans.

Bake in your NU-VU NCOT-5 oven with the following parameters:

350 °F with medium fan speed

3 min fan delay 

Fan reversing cycle of : 25s on, 1:30 s off for a total of 13 mins

If using a different oven, baking time may vary 

Move cookies on a cooling rack and cool for 30 mins before packaging.
Yields 4 doz cookies at 1.25mg THC per cookie. Shelf stable for 30 days. Would require extended shelf life solution if more days are required.