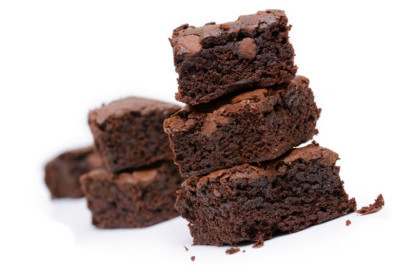 BakeShure® Fudge Brownie
---
Ingredients
In Baker's Percent: (%)
Cocoa Powder, Natural – 50%
Salt – 1.8%
BakeShure® 681 – 1.75%
Eggs (room temp) – 112%
Vanilla – 6%
Butter (melted) – 130%
Sugar – 225.5%
Patent Flour – 100%
Processes
100 Gram Flour Batch Makes One 9X9 Pan

Preheat oven to 325°F.

Combine cocoa powder, salt, baking powder, eggs and vanilla in a mixing bowl for the N-50 Hobart mixer.

 

Mix on speed 1 for 2 minutes.
Combine melted butter and sugar together and add to the cocoa mixture.

 

Mix on speed 1 for 1.5 minutes. (the batter should be smooth)

Add flour to the mixing bowl and mix on speed 1 for 30 seconds.

Spread the brownie batter into a prepared pan. IF USING DISPOSABLE PANS PLACE THE PANS ON A BAKING SHEET.

Bake the dough in a 325°F conventional oven for 35-40 minutes.

Remove the pan from the oven use a bench scraper to gently push down the edges of the brownie.

Serve warm or cool for 30 minutes and package.