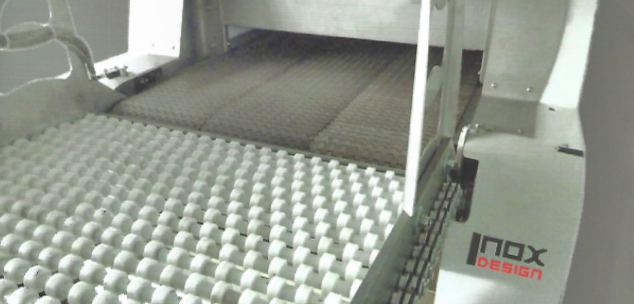 Can you extend shelf life without added ingredients? This new technology does it with equipment in a surprisingly effective way!
INOX Design has designed a method of using microwave technology to prolong shelf life. Products move on a conveyor belt through microwave units. The food's internal humidity absorbs the energy and converts it to heat, stabilizing it.
This allows baked goods to be stored at room temperature for up to 60 or 90 days, without chemical additives, preservatives, eliminating yeasts and molds while maintaining organoleptic and sensory qualities.
Do microwaves hurt the texture?
This process is the result of 28 years of experience in microwave technology and three years of R&D in bakery products. There isn't any crystallization of sugars, staling or texture modification, because the microwave machines are able to softly supply only the necessary quantity of microwaves.
It isn't designed to replace the current bake, or to finish crustless bread. It's an extra step at the end of production and packaging, suitable for any type of bread product from loaves to rolls to flatbreads.
Microwaves penetrate up to 10 cm (4 inches) per each magnetron. The technology uses two lines of magnetrons (one line above the products and one line below) so it can handle bread up to 20 cm (8 inches). The microwave technology destroys mold spores, without hurting the product texture in anyway. Dwell time depends on size, but it averages around 15 or 20 minutes per unit.
Because this takes place after packaging, the product properties and qualities stay in tact. When it comes out the other side, the organoleptic, sensory and microbiological qualities of the product are maintained. And it can process any kind of bread without affecting product moisture, texture or staling. Water activity and moisture are two important parameters by which depends shelf life, together with pH levels.
Does the equipment take a lot of space?
The smallest unit available processes 60 kg/h and is 197 x 66 ft. There's also a 150 kg/h unit that's 328 x 66 ft. If you have a lot of baked goods to process, there is a 700 kg/h unit is composed of two towers at 328 x 180 ft each.
What does this means for clean label?
With this microwave technology, you can achieve a formidable shelf life, without adding in extra preservatives and such. Plus, the whole process is organic. Microwaves are non ionizing radiations, so they only have body heating without causing side effects.
To learn more about this technology, download the brochure: