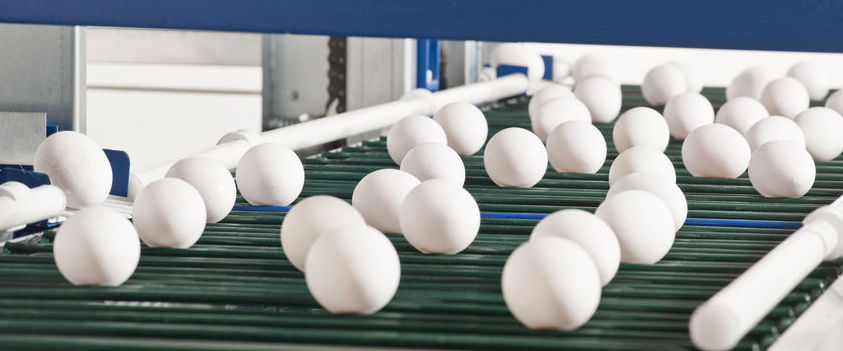 With an outbreak of Avian Flu wreaking havoc on the U.S. egg supply for commercial bakeries and restaurants, food suppliers are offering a solution through efficient and affordable egg replacers.
The H5N2 strain has killed over 44 million chickens and turkeys on hundreds of farms around the U.S., including many of the egg breaker and liquid egg farms.
With prices soaring, leading ingredient suppliers say their customers are looking for substitute solutions.
Egg replacers could carry the industry through the current outbreak—with effects that could last two years—but also become a standard in the future. Suppliers have noticed more and more of their customers turning to replacements to ease off egg dependence.
I have contacted these suppliers of egg replacers and these are their recommended solutions. Their products not only keep the integrity of the product and label standards, but are cost-effective alternatives.
Manildra
Egg replacement: GemPro
Manildra's egg replacement product is wheat-protein based, making it compatible with wheat-based systems, and higher in protein compared to other egg replacers. GemPro also uses simple ingredients and costs less than dried whole egg or dried egg whites.
The performance of GemPro products have been supported by four Kansas State University studies on bakery products and one North Dakota State University study on retorted pasta, according to Dr. Ody Maningat from Manildra Group USA. As bakeries quickly search for egg replacements, they have to keep in mind ingredient labeling while evaluating different products, which is why it's important to have reliable and simple ingredients, Dr. Maningat said. Reach Dr. Maningat at (913) 362-0777 or [email protected]
Florida Food Products
Egg replacement: Fiber Gel LC
FiberGel LC®gels are irreversible and thermostable like egg mimicking egg structure under bake conditions, according to Edgar Anders, Executive VP with Florida Food Products.   The insoluble fibers uniquely have emulsification and water absorbing properties. Similar to hydrocolloids, the soluble fibers are "activated" and when exposed to divalent ions (ie. calcium), moisture is managed while an egg-like structure is created. Economical as an egg replacement, whole or in part, it provides a tool in the box for the present Avian crisis.
FiberGel LC®is clean label allergen Free, GMO free, replaces gluten, and extends the finished product's shelf life. Edgar said  "ingredient declarations are simplified using FiberGel LC®". Reach Edgar Anders at (352) 357-4141 x 327 or [email protected]
J&K Ingredients
Egg replacement: Vita-ex 100 and Vita-ex 300
J&K Ingredients egg replacement replicates the functionality and nutritional value of eggs, according to Kurt Miller with the company. The soy-based Vita-ex 100 and wheat-based Vita-ex 300 uses state-of-the art ingredient technology to give egg-like attributes in the baked product.  J&K Ingredients also offers an egg white replacement—Vita Whites.
The line of products is one of the most economical replacement systems out there, either as a high percentage or complete egg substitute.   For over 20 years, the company has been making egg replacers. Miller said J&K is providing a way to reduce the industry's dependence on eggs, as its customers deal with rationed egg supplies or dramatically rising prices. Reach Kurt Miller at (973) 340-8700 or [email protected]
Arla Foods Ingredients
Egg replacement: Nutrilac
Nutrilac is a whey protein egg replacer. In many circumstances it improves the quality of the product when combined with eggs. A line of egg replacers are tailor made for specific products, such as cakes, muffins, donuts, cookies, pastries and brownies. Whey proteins have the benefit of being 100 percent natural as well.
Arla Foods Ingredients believes milk proteins will be the "bakery ingredients of the future," due to their versatility and the added improvements to bakery products. Along with their replacements, the company offers technical expertise to help their customers experiment, test, and implement the products. Reach Nikolaj Beck, Sales Manager, at [email protected].
ProBlend-Eurogerm
Egg replacement: Y-egg NS
ProBlend-Eurogerm egg replacement can replace 50 percent or more of the required egg in a recipe, yet at a quarter of the cost of whole eggs. Y-eggs NS is a whole egg replacer that is allergen free, with no soy products. The company also sells Solutec Eggless Glaze CL—a clean-label egg glaze replacement for breads and pastry.
Rick Gizzi from ProBlend-Eurogerm said their egg suppliers were dealing with shortages from the avian flu outbreak and cut off the supply. With many good replacers available to bakery companies, Gizzi said to make sure the replacement is plentiful before a move is made to completely switch over. Reach Rick Gizzi at (847) 221-5004 or [email protected]
Puratos
Egg replacement : Intens Egg Replacement
Intens Egg Replacement is a modular solution allowing industrial bakeries to fully or partially replace whole eggs in yeast raised applications  (buns, rolls, Danish, croissants, brioche…).
In recipes with less than 15% usage of eggs in the recipe, one can fully replace the amount of eggs in the dough allowing a serious cost reduction and removing the egg allergen declaration. In recipe using more than 15% of eggs  in the recipe, one can partially replace the amount of eggs in the dough leading to a significant cost saving.
This  non GMO, clean label solution can lead to a 45% cost reduction depending on the egg prices applied. The Intens Egg replacement solution is  based on the latest enzyme technologies and aims at ensuring volume, texture attributes and taste.
Reach Kathryn Power at 856-428-4300 or [email protected] for more details on Puratos Egg replacement solutions.
Corbion Caravan
Egg replacement: Function 200, Function 100
Along with Corbion Caravan's Cara-Eg and Bro-Eg egg extender and replacement products, the company is introducing Function Plus 100 and Function Plus 200. Both of these solutions lower product cost by replacing eggs, are easy to scale and handle, and create moist, tender baked goods without impacting the flavor profile of the original product.
As Corbion Caravan's premium product, Function Plus 200 can replace up to 100 percent of the powdered egg amount required in recipes for everything from muffins and brownies to high-ratio cake systems. Function Plus 200 does not require reconstitution and is easy to scale and handle. It provides excellent strength and volume, creating finished products that are fluffy, moist and tender. Reach Kathy Sargent at (913) 890-5695 or [email protected]
Bread Partners
Egg replacement: Sunset RV 
Eggs are very functional in baked goods. They improve shelf-life, give flavor and structure, and the protein found in eggs provides volume, height and aeration, especially in cakes. The ingredients used by BreadPartners in its proprietary egg replacer formulation, are designed to mimic all the above functionalities. Sunset RV is tremendously versatile and easy to use. In powder form, it can replace up to 100% of eggs in bread, rolls and bagel formulations and it can replace 30% – 50% of the eggs used in Cakes, Muffins, Danish, Brownies, Cookies, Éclairs and Brioche. Sunset RV is also tremendously cost-effective due to its 4 to 1 usage ratio. In other words, 4 parts of water plus 1 part of Sunset RV replaces 5 parts of eggs. Finally, Sunset RV reduces the risk of salmonella since there are no eggs in the formulation.  Especially appreciated is the All-Natural Egg Flavor that is utilized. Sunset RV is packed in 50 lb. bags and is manufactured by BreadPartners, Inc.  in Cinnaminson, New Jersey. Give BreadPartners a call  toll free at 877 261 7276  or [email protected] and get your free sample of Sunset RV today.
Thymly Products Inc.
Egg replacement: EGG-WER
EGG-WER is a whole egg replacer that is a pound for pound replacement for dry whole powder eggs. Thymly's uses a special milling process to convert natural flaxseed into a powder. EGG-WER is designed to be free flowing, and easy to hydrate. The product is bland in taste. Product characteristics include enhanced textural attributes, better structure & viscosity, and increased moisture. This product is also high in fiber and Omega-3.  Give Chuck O Neal a call at 229.380.1555 or Email
MGP Ingredients, Inc.
Egg replacement: Arise® and Optein®
The worst outbreak of the avian influenza in U.S. history has caused many food manufacturers to seek egg alternatives. To help alleviate this need, MGP's Arise® line of wheat protein isolates and Optein® hydrolyzed wheat protein provide highly effective partial egg white replacers ranging from 50% or below up to nearly 100% depending on the application. Along with providing nutritional benefits, these ingredients possess outstanding functional and sensory qualities that help deliver total product satisfaction. They additionally provide a variety of formulation and processing benefits.  MGP's egg white alternatives are especially ideal for inclusion in flour-based products such as bread, muffins, cookies and numerous other bakery goods, pasta and noodles, and batters and pre-dusting agents. Additional details about these wheat-based, non-GMO egg-white replacers can be obtained by contacting Linda Tuley at [email protected], or calling 866-547-2122.
Egg replacement can be tricky, and you can read more about it here. I wish you a smooth transition to being egg free.
If you have further questions on reformulations, you can always reach me here