Brought to you by Ingredion
Increase preference by creating a texture that aligns with what your customers want most. With snack texturizer solutions, you can produce a range of expansion properties and make light and crispy to hard and crunchy crackers.
Baked snacks with the texture and the functionality you need
Create optimized and differentiated textures for your product with the benefits of using specialty starch-based texturizers, including:
Improving dough cohesiveness and sheetability
Allowing the production of a high-quality eating experience and consistent sheeted snacks
Helping to reduce breakage while minimizing the textural impact
Easy addition into the dough make-up stage
Providing clean label options if needed
A case study on starch-based texturizers
Ingredion tested the effect of starch-based PRECISA® Crisp texturizers on crackers in a snack production line to show how starch selection is essential to getting the right sheeting quality. Incorrect starch selection will result in issues such as having too crumbly of dough, getting dry/torn sheets, or having sticky dough stuck on rollers.
Ingredion's PRECISA Crisp texturizers create a wide range of textures in sheeted snacks, allowing you to close the texture gap between baked and fried slacks, and adjust texture to align with your consumers' preferences. All the texturizer solutions within the PRECISA Crisp line contribute to more cohesive and extensible doughs that are easy to sheet with more managed hydration and stickiness.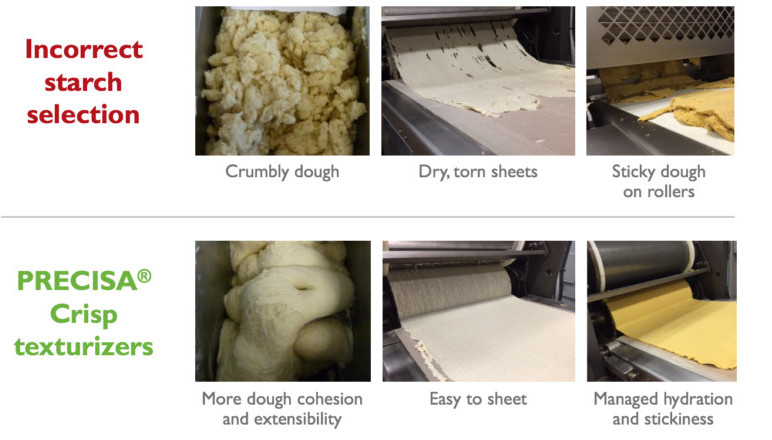 Ingredion's sensory team created a texture map outlining the unique and differentiated textures that can be created using different PRECISA Crisp texturizers to help you tune your crackers crunch and satisfy your consumers' texture preferences.
By using Ingredion's starch-based texturizers, you can help enhance your consumer's sensory experience, while saving time and money. Plus, you can modify and create new textures for your sheeted snacks.
Learn more about how texturizers can improve your baked snacks at www.ingredion.us/snacks.