The clean label movement has started bakers on their journey to eliminate chlorinated and bleached flour from their ingredient labels. Although already banned in many EU countries, chlorinated flour is used in America because it works the best in our high ratio cake systems.  Cream cakes without chlorinated flour have been popping up across the country, but to date there has been no solution for a clean label layer cake without this magical ingredient.
Why not just eliminate chlorinated flour?
To remove chlorinated or bleached flour, you have to understand how chlorinated flour works in our systems.  With high ratio cake systems, the chlorination of flour provides altered starch molecules that absorbs more water in a high sugar system. This strengthens the batter to carry the high sugar load, which results in a higher volume, finer grain and a tenderized texture.
So when Puratos told me that they have a solution that not only removes chlorinated/bleached flour, but removes Aluminum, PGME, Polysorbates, BHT and artificial flavors, I said, "I gotta see this for myself." So, I went to the Puratos Innovation Center in Seattle to taste this incredible innovation.
Honestly, I was expecting a crumbly cake with a dense structure
The three big "ifs" I was expecting:
If you take emulsifiers out of the picture, you will get a crumbly grain with an open structure.
If you take chlorinated flour out of the picture, you will get a dense structure (see negative control).
If you take SALP out of the picture, you will not get enough gassing or volume.
So I wasn't expecting much when I walked into the innovation center.
But my goodness, was I surprised! Not only was this new clean cake, Easy Satin Silver, fluffy in texture, resilient, and moist, but it didn't crumble as much as thought it would. It held together better than the control.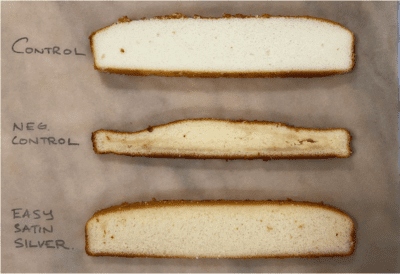 Here are the ingredient label comparisons:
Control:
Sugar, bleached enriched wheat flour (niacin, reduced iron, thiamine mononitrate, riboflavin, folic acid), dried egg whites, palm oil, emulsifier blend (propylene glycol monoesters, mono- and diglycerides, soy lecithin, BHT, citric acid), dextrose, leavening (sodium bicarbonate, sodium aluminum phosphate, monocalcium phosphate), Contains 2% or less of the following: dried egg yolks, nonfat dry milk, modified food starch, salt, natural and artificial flavor, polysorbate 60, tetrasodium pyrophosphate, gum arabic, sodium propionate (preservative), calcium acetate, guar gum, potassium sorbate (preservative), xanthan gum, soybean oil.
Easy Satin Silver CL Layer Cake Base:
Wheat flour, wheat starch, sugar, dried egg whites, dextrose, leavening (sodium acid pyrophosphate, sodium bicarbonate, monocalcium phosphate), mono-and diglycerides, nonfat dry milk, rice flour, dried egg yolks, wheat gluten, contains 2% or less of the following: modified food starch, wheat protein, salt, soy lecithin, palm oil, natural flavor, whey protein concentrate, calcium chloride, xanthin gum, calcium acetate, guar gum, enzymes.
The downside of what I see for this product is:
The multi steps it requires for mixing. This is because adequate hydration needs to occur for the starches to replace the chlorinated flour. However, if you can manipulate this within your process limitations, it shouldn't be a problem for many bakeries
The yellow tint. From the pictures, you can see that it is obvious what chlorination/bleaching does to the control cake. The yellow comes from the natural pigmentation of the flour, and it is an inherent characteristic. However, when covering these cakes in frosting, you can barely see the difference after that.
Price. Honestly guys, it is going to be more expensive than the control formula. Why not? You are getting a premium product. Just remember, the more ingredients you remove from the control formula, the more expensive it would be to replace it. That is why Puratos has different classes of cakes like the Silver and Gold, which caters to the different degree of 'cleanliness' you would expect in your cake formulas.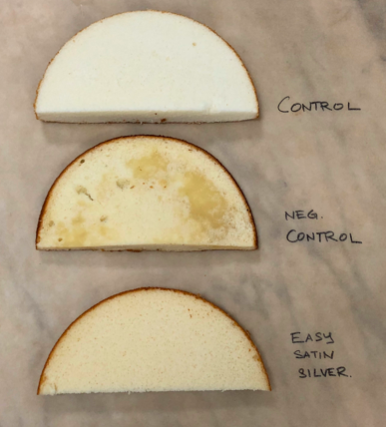 An awesome innovation that you really have to try
This product has really convinced me that that cake industry is finally able to move away from chlorinated/bleached flour and traditional emulsifiers. Don't take my word for it, try it for yourself. If you would like to try a sample of this product for your bakery:
Request a Sample from Puratos