Snickerdoodle
Snickerdoodle
Nutrition Info
Serving size:

55g

Calories:

240
Fat:

11g

Saturated fat:

7g

Carbs:

33g

Sugar:

17g

Sodium:

140mg

Fiber:

1g

Protein:

3g

Chol:

50mg
Prep time:
Cook time:
Total time: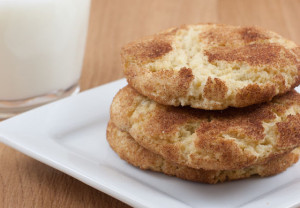 Who doesn't love a good Snickerdoole that melts in your mouth? An all time favorite with everyone, Snickerdoodles are easy to make and keeps well for a few days. This delicious recipe is originally from a German family.
Ingredients
1 Cup Butter (softened)
¾ Cup Granulated sugar
½ Cup Brown sugar
1 Egg plus 1 yolk
1 Tbsp Vanilla
1 tsp cream of tartar
1 tsp baking soda
½ tsp Salt
1 tsp Cinnamon
2¾ Cup AP flour
Cinnamon sugar
¼ Cup Granulated sugar
1 Tbsp Cinnamon
Instructions
Preheat the oven to 325 oF. Grease two cookie sheets.
Blend the baking soda, cream of tartar, salt, cinnamon and flour in a separate bowl.
Cream the butter with both the sugar in the mixer.
Gradually add in the beaten egg, vanilla, and beat on high.
Add in the dry ingredient blend and mix well.
In another bowl, mix together the cinnamon and sugar.
Use an ice cream scoop to drop the cookie dough into the cinnamon sugar and coat it well.
Place it on the cookie sheet about 2 inches apart, and flatten it slightly.
Bake it for 10-12 mins.