Raspberry Buttermilk Scone
Raspberry Buttermilk Scone
Nutrition Info
Serving size:

55g

Calories:

170
Fat:

9g

Saturated fat:

5g

Carbs:

22g

Sugar:

11g

Sodium:

230mg

Fiber:

2g

Protein:

3g

Chol:

25mg
Prep time:
Cook time:
Total time: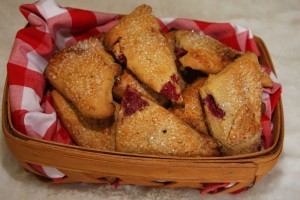 A sweet and tart breakfast treat complete with a great buttermilk flavor! Make the night before, or freeze a bunch, then bake the following morning. Nothing beats a hot and fluffy scone (not to mention full of nutrition thanks to the whole wheat flour) with your cup of Joe!
Ingredients
3 C Whole wheat flour
½ C Sugar
1 tsp Salt
2½ tsp Baking powder
½ tsp Baking soda
1½ stick Butter
1 C Water
4 tbsp Buttermilk powder
1 C Raspberries
2 tbsp Vanilla
1 Egg yolk
1½ C White chocolate
1 Egg white for glazing
3 tbsp Dusting sugar
Instructions
Preheat the oven to 350oF and grease a cookie sheet.
Blend all the dry ingredients together.
Cream the butter ad sugar, add in the egg yolk and the vanilla.
Mix till smooth.
Add in dry ingredients and mix.
Fold in the raspberries.
Flour the work area and roll out the dough.
Cut the dough into tiny rectangles then into triangles.
Place the scones on the cookie sheet, glaze with the egg white and sprinkle with the dusting sugar.
Bake in the oven for 30 minutes or until golden brown.