Pumpkin Scones
Pumpkin Scones
Nutrition Info
Serving size:

110g

Calories:

360
Fat:

10g

Saturated fat:

6g

Trans fat:

0g

Carbs:

65g

Sugar:

44g

Sodium:

250mg

Fiber:

2g

Protein:

4g

Chol:

45mg
Prep time:
Cook time:
Total time: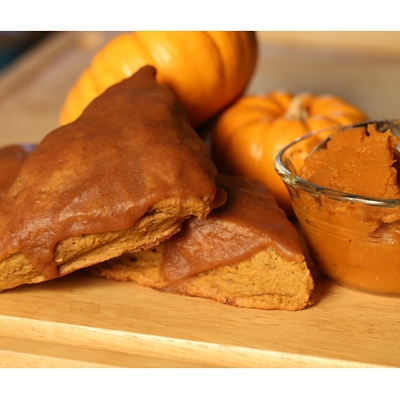 An awesome treat for this fall! This is a delicious Pumpkin scone that melts in your mouth.
Filled with pumpkin puree and spice to give it the extra oomph, the texture in this scone will make you come back for more. Remember to store scones in a container after 30 minutes of cooling to preserve the moisture.
Ingredients
½ Cup Butter
½ Cup Brown sugar
3 tbsp Milk
½ Cup Pumpkin puree
1 tbsp Molasses
2 tsp Vanilla
1 Egg (beaten)
2 Cup All purpose flour
2 tbsp Buttermilk powder
1 tsp Baking powder
½ tsp Baking Soda
½ tsp Salt
1 tsp cinnamon
¾ tsp ginger
¼ tsp cloves
½ tsp nutmeg
Glaze
1½ Cup Sugar
3 tbsp Pumpkin Puree
¼ tsp Cinnamon sugar
¼ tsp Ginger
¼ tsp nutmeg
Instructions
Preheat the oven to 400o

F. Line your baking sheet with a sillicon pad.

Cream the butter and brown sugar with a paddle in the mixer till light and fluffy.
Add in the vanilla, pumpkin puree, milk and molasses gradually.
Then gradually add in the beaten egg.
In a mixing bowl, place the flour, buttermilk, baking powder, salt, spices and blend well.
Add this to the rest of the ingredients and beat until the batter is lump free.
Place the dough onto a sheet of wax paper and chill it in the fridge for an hour.
Remove the dough from the fridge and roll it out.
Cut it into triangular pieces.
Place it on the baking sheet.
Bake in the oven for 20-25 minutes or until inserted toothpick comes out clean.
Cool In a bowl, mix the sugar, pumpkin puree, and spices.
Spread this over the cooled scones.
Leave to set for about an hour.
Serve when the glaze hardens over.
Notes
SUGAR, FLOUR, PUMPKIN, BUTTER, BROWN SUGAR, EGGS, MILK, MOLASSES, POWDERED BUTTERMILK, FLAVOR, VANILLA EXTRACT, BAKING POWDER, GROUND CINNAMON, SALT, BAKING SODA, GROUND GINGER, GROUND NUTMEG, GROUND CLOVES.


CONTAINS: WHEAT, MILK, EGGS
 [/fusion_builder_column][/fusion_builder_row][/fusion_builder_container]