Pumpkin Praline Chiffon Pie
Pumpkin Praline Chiffon Pie
Nutrition Info
Serving size:

163g

Calories:

460
Fat:

25g

Saturated fat:

14g

Trans fat:

1g

Carbs:

53g

Sugar:

25g

Sodium:

370mg

Fiber:

2g

Protein:

8g

Chol:

120mg
Prep time:
Cook time:
Total time: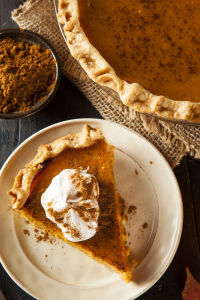 Tired of baking the same pumpkin pie? Well, here is something that would make you stand out at the next party. A light, delicious, sweet and crunchy pie that will blow your tastebuds out of this world! The recipe may seem a little too much work, but the rewards are just amazing. Trust me, you just can't make one pie.
Ingredients
Crust
2 sticks Soft butter (8 oz)
2 C All purpose flour
1 tbsp Honey
¼ tsp Salt
1 tsp Vanilla
2 tbsp Milk
⅓ C Brown sugar
⅓ C Pecan pieces
Filling
½ C Sugar
1 Envelope Gelatin
1 tsp Ground cinnamon
1 tsp Ground nutmeg
½ tsp Ground ginger
½ tsp Salt
4 Eggs (beat yolks, save whites)
1lb Pumpkin puree
¾ C Milk
¼ C Sugar
Instructions
Preheat the oven to 450oF.
Rub the butter into the flour until crumbles are formed.
Add the honey, salt, vanilla and milk to form a dough.
Knead for 3 minutes. Roll it out and place into a greased pie dish.
Mix the butter, brown sugar and pecan pieces and place onto the unbaked pie crust.
Bake in the oven for 10 minutes. Cool.
Bring the water to a boil. In a double boiler, place the sugar, gelatin, spices, yolks, pumpkin and milk into the pot and cook for 15 minutes.
Chill this pumpkin mixture, whipping occasionally, till it starts to set. Beat the whites and sugar till stiff.
Fold it into the chilled pumpkin mixture.
Slowly pour this into the crust and set for 4 hours.
Serve chilled.
 [/fusion_builder_column][/fusion_builder_row][/fusion_builder_container]