Pumpkin Brioche
Pumpkin Brioche
Nutrition Info
Serving size:

58g

Calories:

190
Fat:

9g

Carbs:

25g

Sugar:

10g

Sodium:

180mg

Fiber:

1m

Protein:

3g
Prep time:
Cook time:
Total time: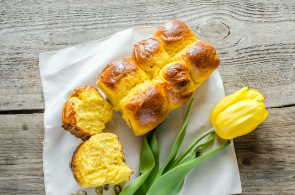 A very moist and sweet dinner roll, that would pair nicely with your turkey dinner
Ingredients
1package Dry yeast
1 tsp Sugar
3 tbsp Warm water
1 C Pumpkin puree
3¾ C All purpose flour
1 C Light brown sugar
1 tsp Salt
1 tsp Ground cinnamon
½ tsp Ground nutmeg
½ C Butter (cut into small pieces)
2 Eggs
1 Egg yolk
Instructions
Mix the yeast, sugar and warm water in a small bowl.
Let sit for 20 minutes.
In the mixing bowl, put in the rest of the ingredients (except for the eggs) on low for 5 minutes. Gradually add in the 3 eggs one by one.
Mix on low for another 5 minutes.
Turn out the dough, onto a flour board. Fold it in half, then half again.
Place it into a large bowl and cover.
Turn the dough out again and fold every 20 minutes. Repeat it two more times. After an hour, leave the dough to double.
When the dough doubles, punch it down, then cut it up into 24 pieces (about 3 oz each).
Roll the dough pieces into balls, and place into a greased pan. Cover and ferment until the rolls double in size (about 30-45 minutes).
Preheat the oven to 375 oF.When the rolls have doubled, glaze it with the beaten egg yolk, then place it in the oven. Bake for 35 minutes or until golden brown. Remove the rolls and cool about 15 minutes in the pan on a wire rack.