Pizza Crust
Pizza Crust
Prep time:
Cook time:
Total time: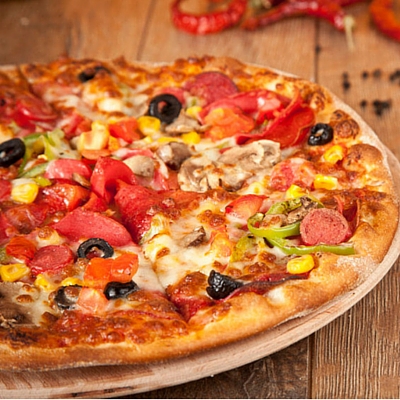 Anyone can make this easy, chewy crust! Recipe makes three medium sized crust. Can be frozen and utilized for a quick
pizza
fix. Helpful hint, the refrigeration step is a must to assist in hydrating the dough as well as aid in dough extensibility. Use All-purpose flour or 50%
bread flour
as bread flour would make the dough exceedingly difficult to stretch. Side note, if the dough is stretched to an adequate thinness (roughly 6" x 4" flat bread pieces) the dough pieces can be used to create tasty flat bread for sandwiches! There is a multitude of ways to utilize the delicious dough! Let us know what you think!
Ingredients
3¼ C All purpose flour
1 tsp Salt
2 tsp Yeast
1 tbsp Olive oil
1 tbsp Honey
1½ C Water
Instructions
Mix all of the dry ingredients in a bowl.
Add in olive oil, honey and water and mix until a dough ball is formed.
Flour the work surface and knead the dough ball for a good 1 minute (or until dough appears well mixed).
Place dough ball into a greased bowl.
Cover with cling wrap and place in refrigerator.
After 30 minutes, flatten dough ball onto the floured surface.
Fold in half, and then fold once more into a quarter.
Place dough ball back into the bowl, cover with cling wrap and place back in the refrigerator.
Repeat steps 6-8 twice more.
Let dough sit in the refrigerator until is ready for use (at least two hours).
Preheat the oven to 400o

F.

Cut the dough ball into three pieces and roll it out.
Place the flattened dough onto baking sheets.
Bake in the oven for 12 minutes.
At this point, the crust is par baked (as denoted in the picture).
Alternatively, the pieces can be topped then baked at 400o

F for 15 minutes. In addition an easy option is to store dough in freezer for baking at a later date.
 [/fusion_builder_column][/fusion_builder_row][/fusion_builder_container]