Chocolate Cake
Chocolate Cake
Nutrition Info
Serving size:

80g

Calories:

220
Fat:

8g

Saturated fat:

1g

Trans fat:

0g

Carbs:

36g

Sugar:

25g

Sodium:

300mg

Fiber:

1g

Protein:

3g

Chol:

25mg
Prep time:
Cook time:
Total time: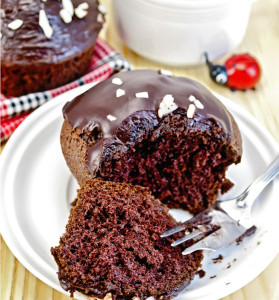 Ever just crave a warm, moist piece of chocolate cake? Well, then this is the cake for you! A to-die-for rich, moist, chocolate cake coming out of your very own oven. Great for ice cream cakes, sheet cakes, parfaits, cupcakes (pictured above), mousse cakes, layered cakes, bundt cakes and even chocolate croutons (for topping ice cream as well as breakfast cereal). How will you know when this scrumptious dessert is done baking? Your house will be brimming with the heavenly, chocolatey aroma! Caution: Make extra because small, wandering hands seem to have an attraction to this warm, chocolate cake!
Ingredients
2C Sugar
¾C Cocoa powder
1¾ C Cake flour
1½ tsp Baking powder
1½ tsp Baking soda
1 tsp Salt
2 Eggs
1 C Milk
½ C Vegetable oil
1 C Boiling water
Instructions
Preheat oven to 350oF. Grease and flour (2) 9" round pans.
Using the paddle attachment, cream the sugar and eggs together until smooth.Gradually add in the milk.
In a separate bowl, dry blend all the dry ingredients.
Add dry ingredients to creamed sugar, eggs, and milk mixture.
Continue to mix until ingredients are well-blended.
Add in the boiling water, mix well, and then pour into earlier prepared pans.
Bake for 30-35 minutes.
Cool on a wire rack and ice with your favorite frosting. Enjoy!