Brownies
Brownies
Nutrition Info
Serving size:

70g

Calories:

290
Fat:

18g

Saturated fat:

10g

Carbs:

28g

Sugar:

17

Sodium:

300mg

Fiber:

1g

Protein:

4g

Chol:

105mg
Prep time:
Cook time:
Total time: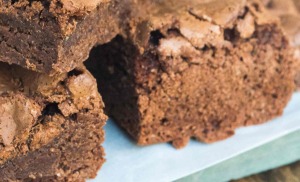 Scratch brownies! Sweeten them up with a chocolate icing glaze and your brownies will be gone in no time at all!
Ingredients
1 C Butter
1 C Sugar
1 Tbsp Vanilla
4 Eggs
¾ C Cocoa powder (Dutched)
1 C All purpose flour
½ tsp Salt
1 tsp Baking powder
Instructions
Preheat the oven to 350oF. Grease a 7"x 12" pan.
Cream the butter, vanilla and sugar together.
Gradually add in the eggs, while beating. In another bowl, mix the rest of the dry ingredients together.
Slowly fold in this flour mixture.
Pour it out into the pan and fill out the corners.
Bake in the oven for 45 mins, or until an inserted toothpick comes out clean.
Cool on a cooling rack for at least 30 minutes before serving.
Enjoy!