Banana Nut Muffins
Banana Nut Muffins
Nutrition Info
Serving size:

97g

Calories:

230
Fat:

9g

Saturated fat:

2g

Carbs:

33g

Sugar:

18g

Sodium:

190mg

Fiber:

4g

Protein:

7g

Chol:

40mg
Prep time:
Cook time:
Total time: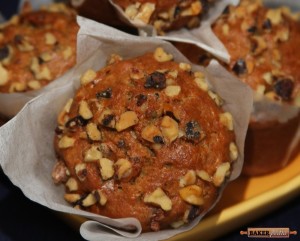 Nothing can beat a warm, moist banana nut muffin especially when in need of an extra energy boost! Perfect for a grab-and-go breakfast, these tiny yet powerful energy boosters will add ease to the hectic morning. (Or serve as the ideal pre-workout snack!) Formulated with a lower fat content, this recipe includes bananas, yogurt, wholesome whole-wheat, and flax. The ultimate combination for one mean muffin jam-packed with a nutritious punch! Definitely not a run-of-the-mill empty, calorie obliterating muffin. Enjoy - without an ounce of guilt!
Ingredients
¼ stick Butter
¾ C sugar
2 Eggs
4 Bananas
¾ C Greek yogurt
1½ C Whole wheat flour
1 tsp Baking soda
1 tsp Vanilla
¼ tsp Salt
1 tbsp Ground flaxseed
1 C Walnuts
Instructions
Preheat the oven to 350o

F and place muffin cups into muffin tin.

Blend all the dry ingredients together. Use only half of the walnuts. Set aside remaining half.
Cream the butter and sugar together until fluffy, add in bananas, eggs, and vanilla gradually.
Mix until smooth.
Add in dry ingredients and mix.
Fill the cups ¾ full.
Top with remaining half of the walnuts.
Bake in the oven for 30 minutes or until golden brown.
Remove the muffins and let cool on wire rack.