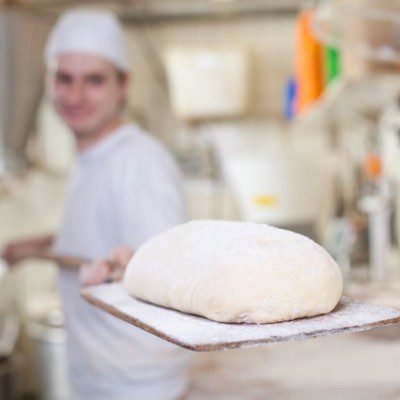 Baking has been considered an art form based on traditional techniques passed down from baker to apprentice. Today's commercial bakeries have specialized equipment, ingredients, and processes that require scientific knowledge with a blend of art. Do your employees understand the function of starch yeast or salt in your formulas?
Paramentier, a French chemist, knew the importance of training bakers for bread making. He was instrumental in founding a school of baking which opened in Paris in 1780.1  Investing in training your bakery employees can be done through AIB's Certified Bread Specialist Career Path. Our program is a modern twist on traditional methods.
Our new combination of flexible e-learning and instructor-led seminars delivers content in small "bites" that can be taken in and around a normal work schedule with minimal disruption.2  This allows employees to move at their own pace, building skills as they progress. The course is available to the employee for up to 3 years after the initial sign-up. The courses are as follows:2
Prerequisite available online:
Foundations available online:
Function of Ingredients
Bread Manufacturing Process
Bread Quality
Bread Troubleshooting
Application instructor led seminar:
Pan Bread Production
Pan Bread Problems, Causes, and Corrections
Scaling, mixing, fermentation, and baking have evolved from art to science for commercial bakers. Our Certified Bread Specialist Program will give your employees the tools for success.
Here is a sneak peak of the first module:
References
Morison, C. B. "THE SCIENTIFIC BACKGROUND OF BAKING." School Science and Mathematics 26.1 (1926).
"Certified Bread Specialist Industrial." AIB International. www.aibonline.org/aibOnline_/secure.aibonline.org/php/ecomm-catalog.aspx?catalogNbr=20GR01000. Accessed 20 Apr. 2017.