Dr. Lin Carson | Founder | CEO
Dr. Lin Carson's love affair with baking started over 25 years ago when she earned her BSc degree in Food Science & Technology at the Ohio State University and then pursued a MSc and PhD from the Department of Grain Science at Kansas State University. Seeing that technical information was not freely shared in the baking industry, Dr. Carson decided to launch BAKERpedia to cover this gap. You can catch Dr. Carson regularly on the BAKED In Science podcast solving baking problems or her obsession with bread. Have a commercial baking question? Ask Dr. Lin!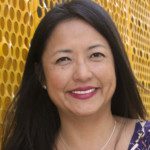 Lilly Lee | Business Development Director
As one of the first employees with BAKERpedia, Lilly has over 20 years experience in sales. She uses her keen ability in business development to foster BAKERpedia's growth and develop the future of the commercial baking community. Lilly enjoys connecting and consulting the leaders in the commercial baking industry to reach our mission of being the number one professional baking resource.
Cindi Moyle | Business Development Executive
Originally from the beautiful Pacific Northwest, Cindi brings her enthusiasm for helping others succeed, and 18 years of business and sales experience to BAKERpedia. She loves watching business grow, and is a people person who loves keeping up on the latest food, sales, and technology trends. Getting to be part of BAKERpedia's growth and mission to be the #1 free, Commercial Baking Digital Encyclopedia to the baking world is exciting and a joy for Cindi.
Joanna Evoniuk | Operations & Content Manager
Joanna works with different departments of BAKERpedia to create on-brand and informative content that informs and engages. She has degree in Journalism from the University of Oregon, and has experience with content writing, social media, web design and marketing strategies. After working for both print and online publications and media companies, Joanna began pursuing digital marketing and content opportunities.
Dr. Jamileh M. Lakkis | Technical Editor
Dr. Jamileh M. Lakkis has a long experience leading innovation programs in the food, nutraceuticals and FMCG industries including breakfast cereals, bakery products and confections. She worked for major food companies including General Mills, Cadbury and Land O'Lakes. Jamileh is a strategic thinker with a unique ability to identify new business opportunities. She is a recognized technical writer/editor.
Alejandro Bustamante Muriel | Content Writer
Alejandro is an agroindustrial engineer from Colombia. He has been involved in the food processing and retail industry since he obtained his college degree from Universidad del Cauca. He is currently a resident at AIB International (Manhattan, KS) and is going deep into the baking science and technology of bakery products. He is a dynamic professional and loves to bring management and technical fields together to improve processes and deliver better results.
Susie Bautista | Content Writer
Susie is a certified flavor chemist and food scientist with extensive experience developing flavors and product concepts for food manufacturers. Additionally, she has a background in food safety, Most recently, she was a recall coordinator and Public Health Advisor for Washington State Department of Agriculture. As a recall coordinator she specialized in hazard communication, coordination and outreach. She writes about food and flavor for her blog www.flavorscientist.com and lives in Olympia, Washington with her husband and two girls.