Brought to you by Arla Foods Ingredients
Commercial bakers are adding protein. Lots of it. To everything. The high-protein trend is taking off in the baking industry, with consumers looking for added value and nutrition to their food. Baking with extra protein does present its fair share of challenges, but there are a growing number of innovative solutions to help make products that are delicious as they are nutritious!
One area with a lot of potential is cookie and biscuit products. Mintel reports that almost one in four consumers now look for cookies that are high in protein. So how can you produce them?
What are the challenges of baking high-protein cookies?
Protein is a functional ingredient that's naturally present in many ingredients already used in baking, such as flour. It adds viscosity, binding, foam formation, emulsification, strengthening and dough formation.
However, high amounts can create issues such as:
Processing efficiency: dough and batter becomes more dense and stiff
Eating quality: products have more tough, chewy bite
Product appearance: volume, crumb and texture are all affected negatively
In the case of cookies, a flour with around 8-10% protein is usually used. Extra protein can affect the spread and structure of the dough.
One solution for high-protein cookies
While there are many ways to add protein to baked goods, and cookies, one that has a lot of success is whey. Besides being naturally high in protein, it improves texture, shelf life and emulsifying properties. That's why at Arla Foods Ingredients, we've worked with it to create whey protein ingredients that improve high protein cookies and biscuits.
Nutrilac® protein ingredients support product development by overcoming issues such as a hard texture, unpleasant aftertaste and unattractive appearance. Nutrilac® gives high-protein biscuits a premium look, taste and feel.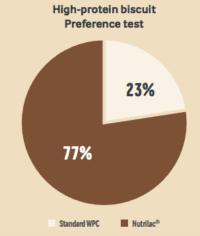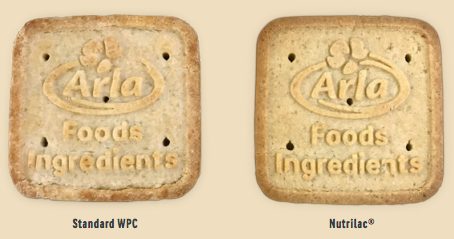 The benefits of Nutrilac®:
Meet growing consumer demand for high-protein biscuits
Optimal processing efficiency
Opportunity to grow market share
Indulgent taste and texture
High in protein claim
Appealing look and snap
To learn more about Nutrilac® and its use in cookies and biscuits, contact us at [email protected].