Blueberry Focaccia Squares
---
What are Blueberry Focaccia Squares?
Blueberry Focaccia Squares are a whole-grain breakfast product targeting the rising trend of whole grain and focaccia breads. The slightly sweet dough has the standard open-grain and uneven crust of artisans breads, while blueberries and an oat topping give it a breakfast quality. The squares have a somewhat crunchy crust with a chewy center.
Focaccia Squares were developed by Ian Jolliffe and Harrison Helmick, both Kansas State University seniors in the in the Baking Science and Management program. Their product was selected as a finalist for the ASB 2016 Product Development Competition. The two specially formulated the product to supply public demand for an on-the-go healthy breakfast.
Baking Formula 
Focaccia Squares have been formulated for high-speed production lines, while optimized for extended shelf life and health benefits. The baking process begins with the dough fermenting in a sponge mixer for six to eight hours. It is then mixed in the main mixer for three to five minutes, due to the dough's quick development. The dough is then weighed to 130 grams, shaped, molded and cooled on a roll table, where it proofs for eight minutes. It's then transferred to an oiled pan, four pockets wide, and put in the proof box for 55 minutes. Afterwards, it is coated with water and oats, and then baked for 26 minutes at 375 degrees. After cooling for around 30 minutes, it's run through a band slicer and packed six per bag. The shelf life is seven days.
The main ingredients include:
White and whole wheat bread flour
Salt
Gold yeast (the osmotolerance helps balance the high sugar levels of the product)
An enzyme blend (for crumb softness and increased shelf life)
Toasted wheat germ (the source of high fiber)
Milled flax (a crumb softener and tenderizer)
Vinegar (to fight mold)
Honey (a sweetener and humectant for increased shelf life)
Lemon flavor
Water
Canola oil
Biga (adds organic acids and CO2 for leavening, as well as increasing shelf life and flavor)
Sugar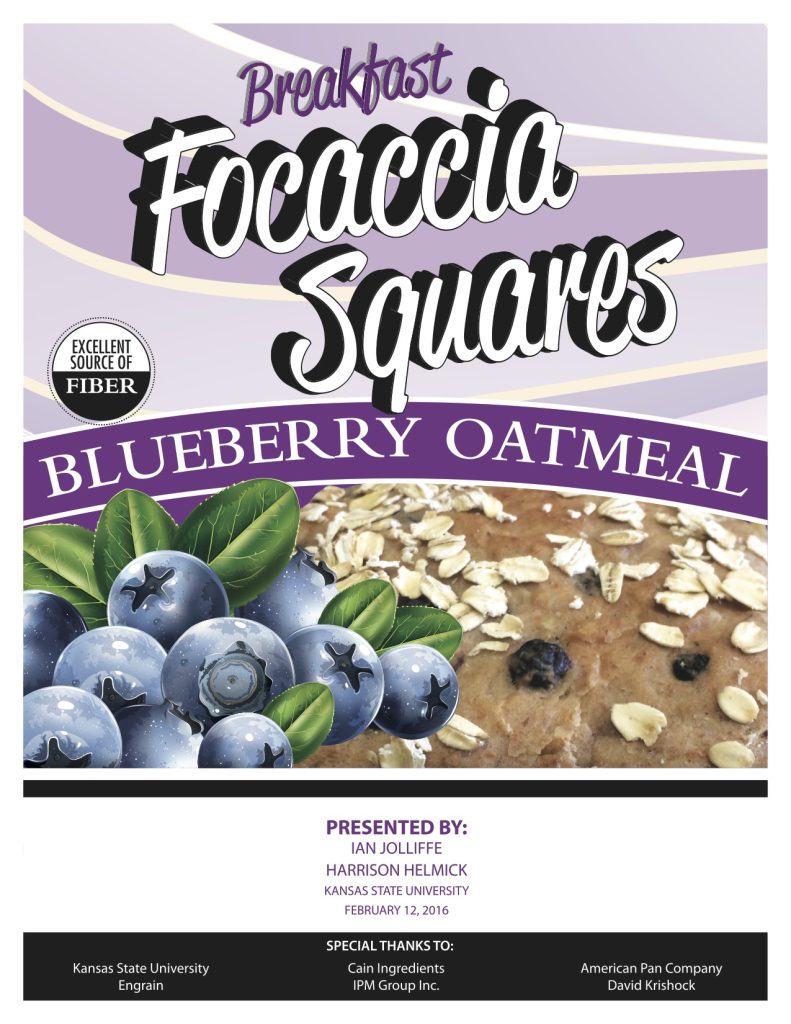 Nutrition Facts
Focaccia Squares are a natural and clean label product, with no hydrogenated oil, artificial flavors, colors, synthetic substances or preservatives. The blueberries also add antioxidants to the squares. None of the "Big Seven" allergens are present, and it can be labeled as "an excellent source of fiber" and "made with raw honey."
One Focaccia Square has 245 calories, 5 grams total fat, 40 total carbohydrates, 7 grams of protein and 5 grams of fiber, 20 percent of the Daily Reference Value.
Contact 
For more information on Blueberry Focaccia Squares or to learn how they customized a pan to fit on a high speed bun line, contact Harrison Helmick or Ian Joliffe