Jalapeño Triple Chocolate Brownies
Jalapeño Triple Chocolate Brownies
Nutrition Info
Serving size:

120g

Calories:

440
Fat:

21g

Saturated fat:

10g

Carbs:

62g

Sugar:

48g

Sodium:

290mg

Fiber:

3g

Protein:

8g

Chol:

20mg
Prep time:
Cook time:
Total time: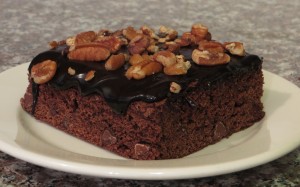 Not your average brownie! A slightly sweet, very spicy kick pairs well with the richness of chocolate. The flavors of cinnamon, ground ginger, cloves, and nutmeg add to the spice factor although the sweet jalapeño's steal the show. The brownie is very dense, almost cake-like in texture yet moist and slightly crumbles like a brownie should. Delicious served warm with a scoop of vanilla bean ice cream.
Instructions
Preheat oven to 350o F.
Spray a 9-by-13-inch pan with non-stick cooking spray. Melt butter and chocolate together double boiler fashion on stove-top. Set aside.
Mince the jalapeno slices as desired.
Whisk eggs and salt well.
Add the sugar and vanilla into the egg and salt mixture. Then beat until thoroughly blended.
Pour in the melted chocolate-butter mixture, using spatula to scrap sides of bowl.
Lightly toss the cocoa powder and flour mixture together with a spoon, or sift.
Add the flour and cocoa powder mix to bowl of all other ingredients until almost blended.
Gently fold in the jalapeños and crushed walnuts with spatula.
Pour batter to pan and bake 30 to 35 minutes. Top will crack slightly when ready. Poke with toothpick half an hour into baking, if removes cleanly then stop baking. If batter remains, continue baking. Remove and cool. Once cool, pour melted chocolate over the top of brownies and sprinkle with crushed pecans. Enjoy!