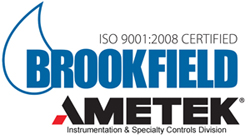 AMETEK Brookfield
is the world leader for manufacture of affordable high quality instruments used in QC and R&D to measure viscosity and perform texture analysis. The baking industry utilizes Brookfield Texture Analyzers and Viscometers to qualify baked goods for acceptability on a daily basis. Ease of instrument operation, reliability of measurements, and timely customer support make Brookfield the obvious choice for CT3 Texture Analyzer and any of several standard benchtop Viscometers.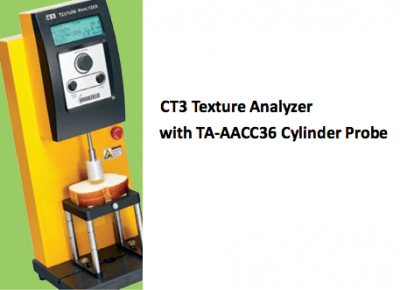 CT3 Texture Analyzer provides uniaxial compression for performance of the standard baking industry test on breads known as Texture Profile Analysis. A wide selection of probes and fixtures for CT3 give flexible test capability in evaluating other baked goods and fillings/coatings used with bakery items. Texture tests characterize the mouth feel that consumers will experience when biting and chewing baked goods. Test data which correlates with "real life" food consumption is important for maintaining consistent product quality in busy baking plants.
Price/performance ratio from CT3 Texture Analyzer is the best in the business. Low purchase price and reliable track record for use by multiple operators in fast-paced bakery operations without downtime make it an essential QC tool. Ease of measurement when running Texture Profile Analysis is enhanced by the special capability to run this test in standalone mode directly from the controls on the face of the instrument.
About AMETEK Brookfield
We have been the world leader in viscosity measurement and control of liquids, soft solids, mixtures and slurries for 80+ years. Over the past 15 years, we have become the global leader in the supply of Texture Analyzers to Quality Control Departments in the food industry. We also manufacture in-line viscometers with advanced sensor technology for real time viscosity measurement/control applications in pipes and tanks, benchtop rheometers for evaluation of yield stress and creep/recovery behavior, and Powder Flow Testers for evaluating gravity flow discharge of flours and starches from hoppers in production environments.
Additional services include customer sample evaluation prior to purchase, custom fixture development for texture testing, free technical papers, educational training programs, and calibration/certification services. Our worldwide network of dealers provide local support in your territory for all of these services.
Contact Information:
Eric Chiang Sales Manager Texture Analyzer
AMETEK Brookfield
INSTRUMENTATION & SPECIALTY CONTROLS DIVISION
11 Commerce Blvd. | Middleboro, MA 02346
P: 508.946.6200 | F: 508.946.6262 | E: [email protected]